What It Is
A service area business is a listing that doesn't have a physical store, and serves customers at their location instead of your own. Also, if your business is mobile (ex: a food truck) you would most likely be a service area business.
Service Area Businesses Operate In A Radius
Google allows you to set a radius for your listing if you choose the service area type. This ultimately comes down to how far you are willing to travel out. You can't set every city in the world as part of your radius, because service area businesses operate within essentially a "zone".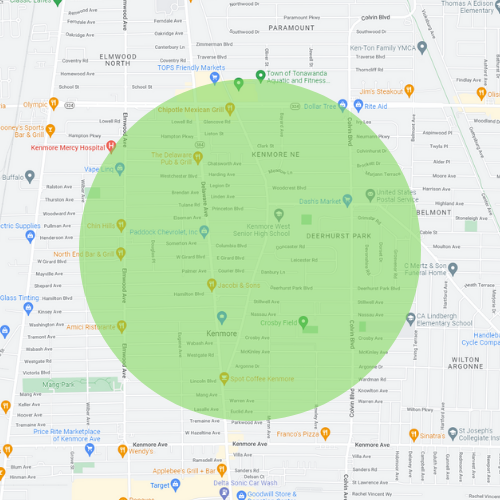 Examples of Service Area Businesses
Here are some real examples of service area listings live on Google Maps.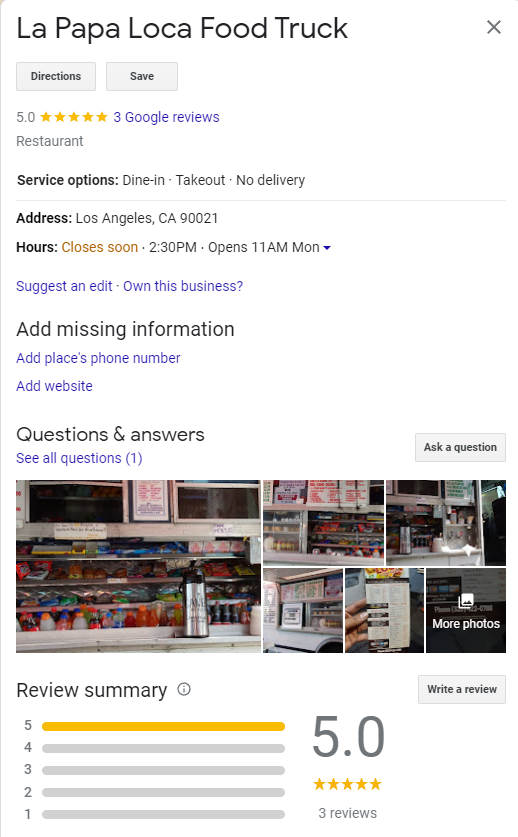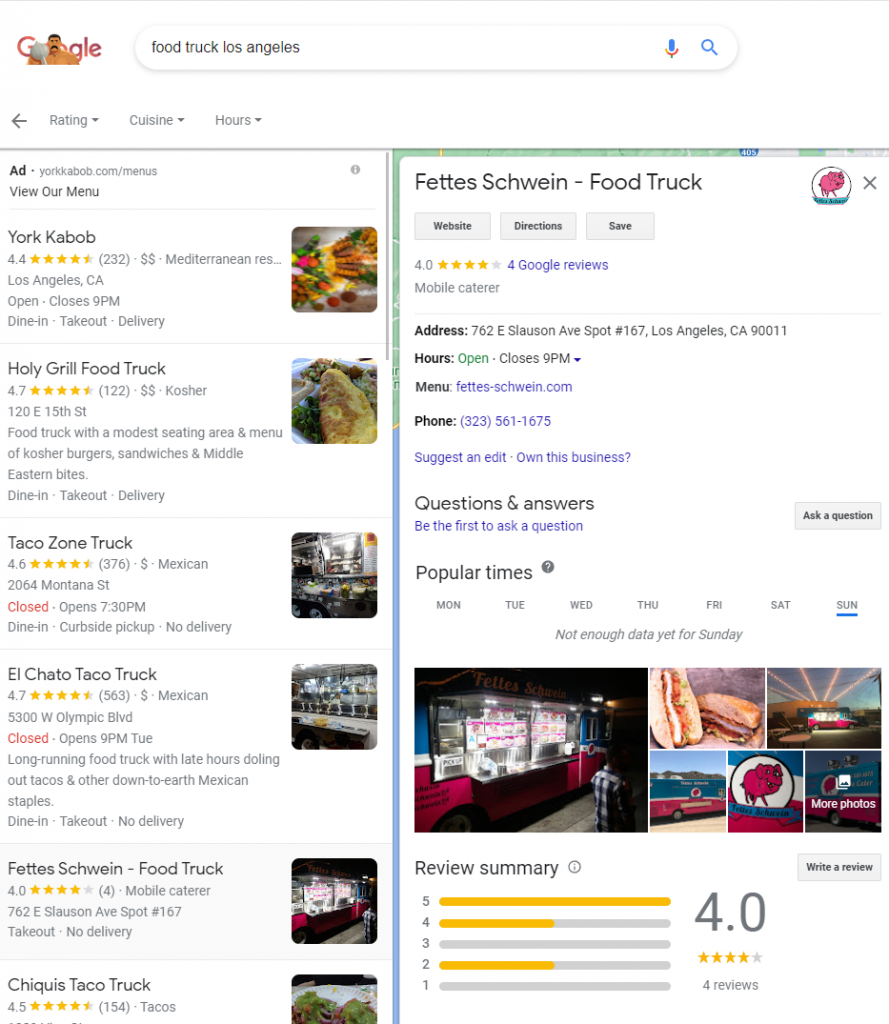 As you can see from the image below, Google is ranking locations with an actual address towards the top of the search results. Service area business listings fall towards the bottom, meaning less calls, leads, and sales. (More on this in a moment.)
Yet another example: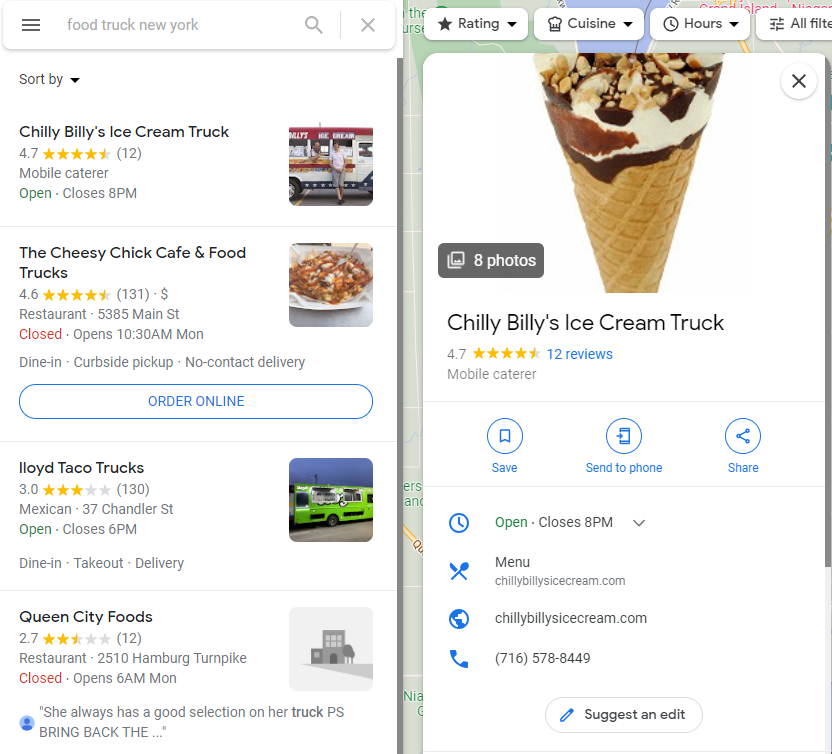 In this case this business is ranked #1 because they have a higher average review score than the competition. This is a way that you can get ahead and rank higher even if you have a service area listing type.
The Alternative
Rather than choosing the "service area" type of listing, you can create a standard one instead at the time of signing up for Google My Business. Your typical listing is essentially for brick and mortar businesses, or in other words companies that operate at an address or specific location.
There's A Problem With Service Area Listings
Unfortunately, there are several major issues that result from setting your business up as a service area listing.
You Don't Rank As Well
The unfortunate reality is that by choosing this listing type, you don't rank nearly as well in the search. Essentially, you are handicapping your SEO results before you even get started by doing this.
I'm sure you've heard about NAP in the SEO space before. If you haven't, NAP stands for name, address, and phone number. One of the pillars of local search engine optimization is to create citations (or mentions) of your business across the web. All of these should include your NAP (name, address, and phone number.)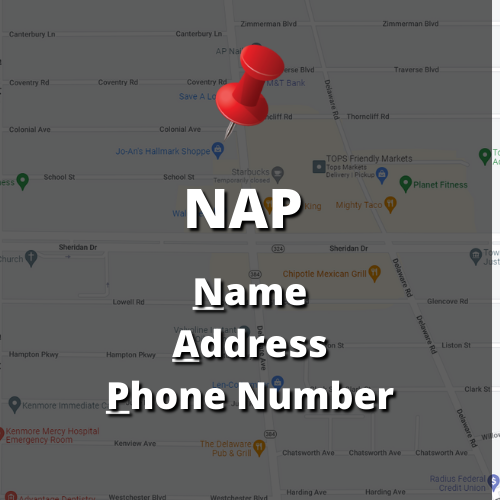 With a service area business, you don't have an address. So in other words, part of the NAP is missing fundamentally. Most citation websites will not let you publish your business without an address, which is where we run into a major issue.
What I Recommend Instead
My professional opinion is that you want to avoid using this listing type at all costs. It's only going to lessen your traffic, calls, and sales from Google, and there's no reason to do that to yourself. Now, I understand that there are instances where this would seem counter intuitive.
In the past, I've told clients about this and gotten a lot of pushback on this. Here are some solutions to common objections or questions I get asked about this.
Operating Out Of Your Home
If you run your business out of your house, specify that you are "by appointment only" in the about section of your Google My Business profile. You can easily print a laminated sign or sticker to go on your door that mentions this. Yes, some people won't read the listing and see this. However, 99% will and I've run several businesses out of a home location over the years.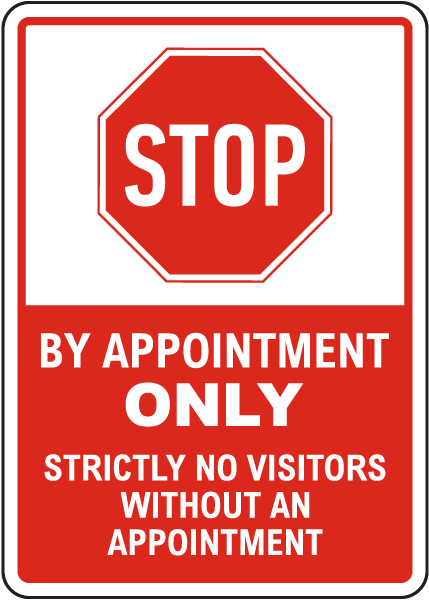 A good majority will always call first, and that gives you the opportunity to mention you are by appointment and that they need to set one up in order to meet with you.
If You're A Mobile Business
Even if you're a mobile business, you still want to set an address of where your headquarters are. If you don't have a storefront, again – it's okay to use your home address. Remember: Non service-area business listings still use a radius in a sense. The most important thing is showing up in the Google search results and getting the most from SEO.
If you operate a food truck, for example, and your business has "food truck" in the name, then people will understand that you are a mobile business regardless.
The Bottom Line
NAP and citations have been a crucial part of local SEO for many years. It's much more difficult to build location relevance with Google if you don't have a physical address attached. Personally, I wouldn't choose "service area" as a listing type at all costs and would always create brick and mortar listings for my clients instead. This is how we've been able to outperform the competition when it comes to SEO.
Still Want To Go The "Service Area" Route…?
It's important to understand that service area listing types almost always underperform compared to your traditional Google My Business listings. As I explained earlier, NAP is a big deal when it comes to local SEO. Despite this, Google has service area as a type of listing in place for a reason, and they obviously want mobile businesses to use this. At the end of the day, the choice is yours.
How To Set It Up
If you're adamant about making your listing a service area one, here is how to set it up. Head over to https://business.google.com, and sign in to your Gmail account. Once done, it will pop up with a screen that has two options. You can either search for your business, or add it to Google.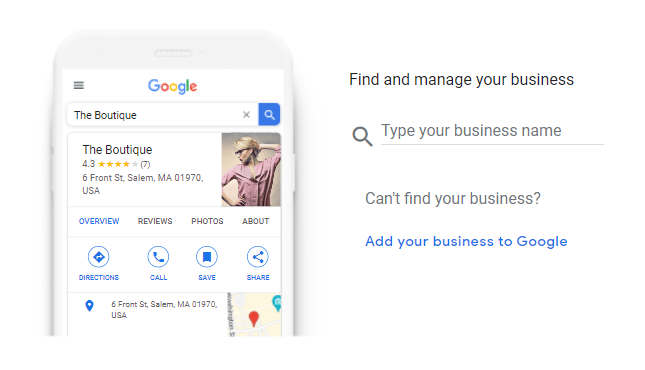 The reason Google has an option to search for it is because sometimes your business already exists as a listing, even if you haven't registered it. Here's why: Users can suggest that a place exists on Google Maps to Google, so even if you haven't claimed your listing. Therefore it can be a thing due to the contribution of lots of online users.
It's always important to check if this is the case first, before creating a listing. Duplicate listings can hurt your SEO and Google doesn't allow this, as it's against their guidelines. A penalty is totally on the table for having more than one listing, so take the extra minute or two to check to see if an existing listing is present on Maps.
After searching for your business, it's time to either create or claim your listing. If your business already is showing up, you can make the listing yours by requesting a postcard to verify you are in fact the business owner. If your company isn't yet in the Google My Business database, you can add it by clicking on "Add your business to Google" in blue.
Setting Your Business Categories
It'll ask you to enter your business name and category. It's important to select the most relevant category to the services or products you offer. This can always be changed and added to later on, so don't fret too much if you can't find a close match to what it is that you do.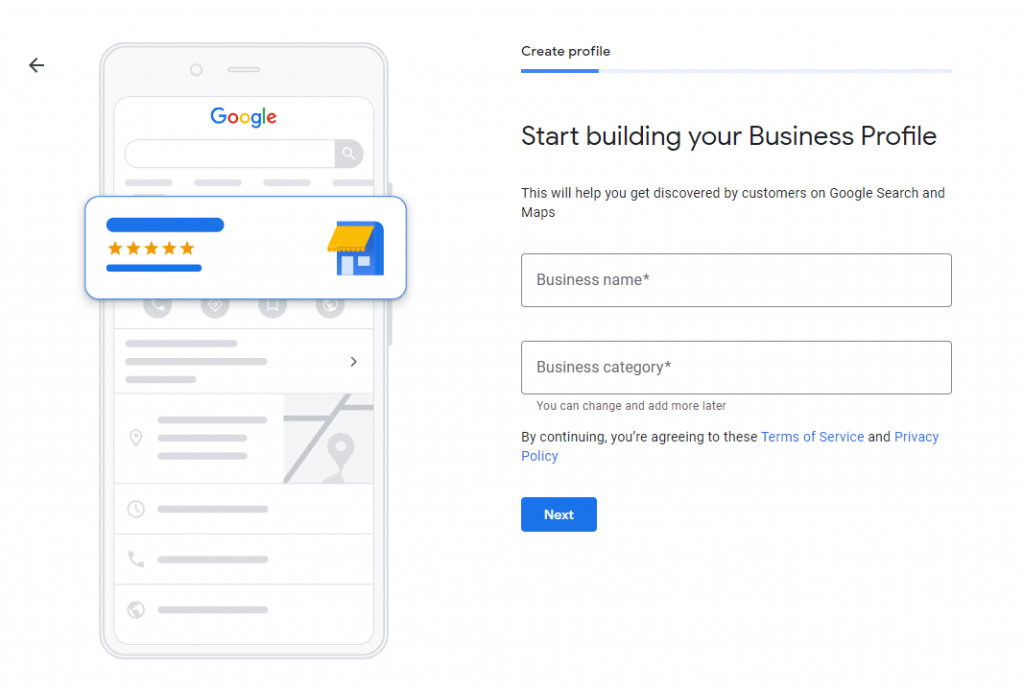 As a side note, a huge hack I often do for clients is including their primary keyword in their business name. This is especially true for companies that don't have a name relevant to their service offered. For example, if my business is called "Miller & Associates" it's not obvious at all what we do. This can actually hurt your SEO unintentionally.
Let's pretend that this example business does landscaping. I would set the business name to something like this: "Miller & Associates Landscaping". Now our primary keyword is included in the listing title, and we are building relevance to that word.
Setting The Listing As A Service Area Type
Now we get to the most important part: choosing between a brick and mortar location versus a service area business. It'll ask if you have a location customers can visit. Again, I recommend using an address…but if you want to do a service area business this is where you would click on "No".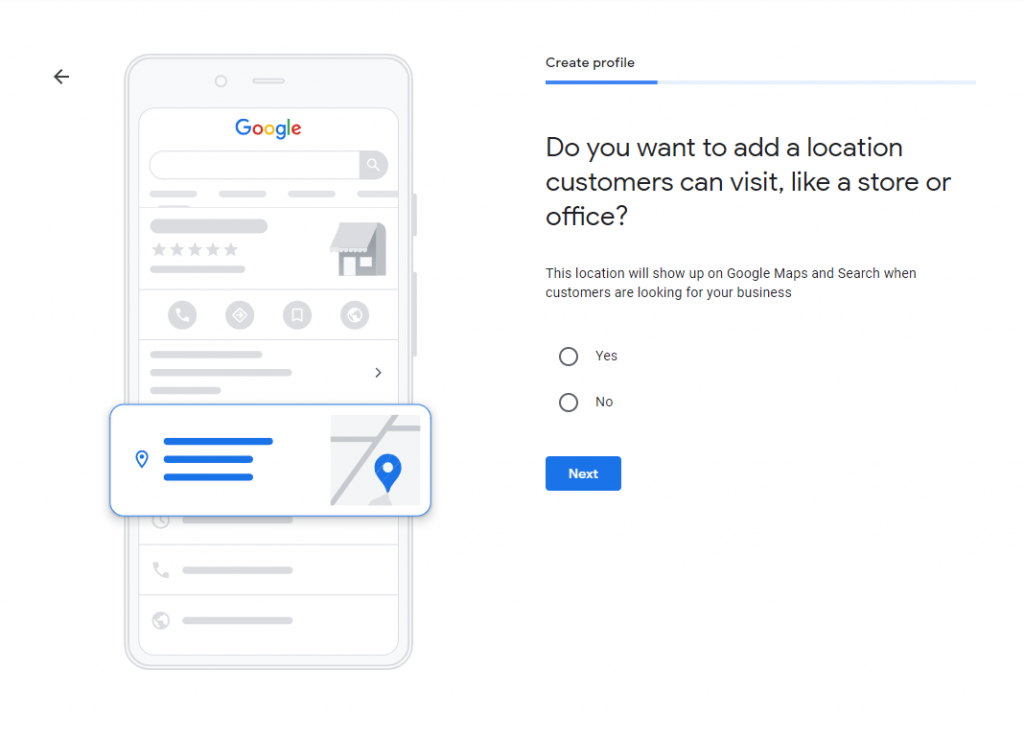 Setting Your Service Area Radius
Now it will ask where you serve customers. You will want to add real locations you service regularly. Remember to stick to places you would actually be willing to drive to. If you live in a big city, this is where you can enter the names of several suburbs.
For example, I'm going to enter some different sections of my city into the box, before clicking the blue "Next" button: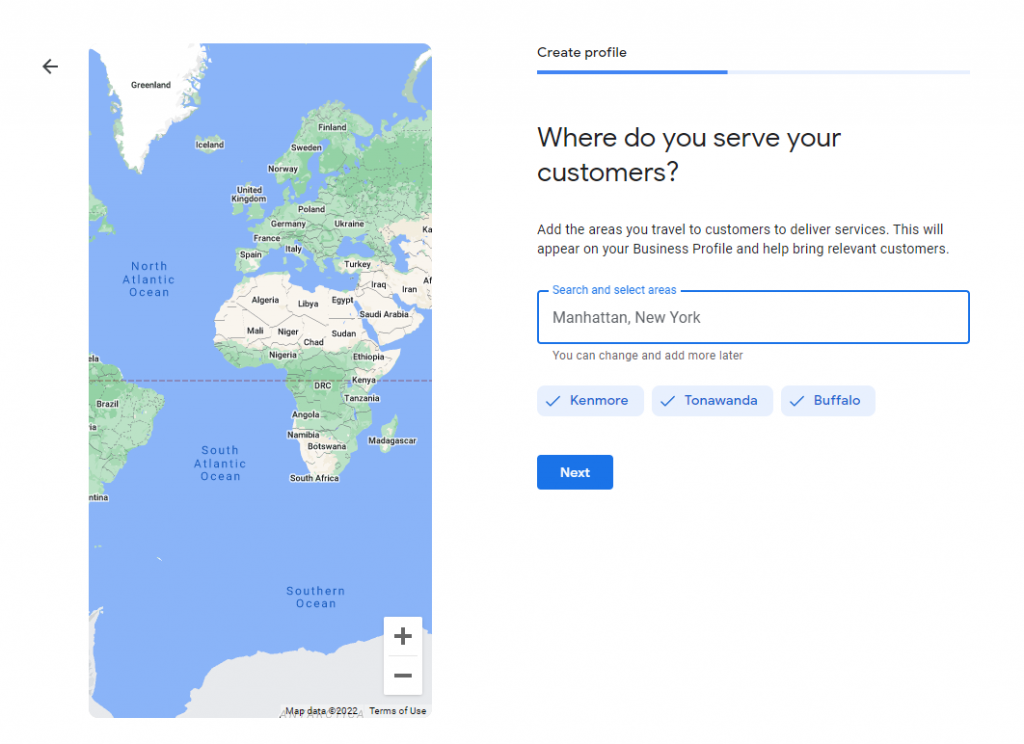 Adding Your Contact Information
It's time to enter your company's contact information. Make sure that the phone number and website address are correct. If you don't have a website, you are not doing SEO properly and need to reevaluate your strategy.
I still remember being shocked when I met with a client who was asking me to help them set up their Google My Business listing. When we got to this step they stated they didn't have an online presence at all. The reality is that having your own website is super important for local SEO.
I cover in depth how to create a high performing, optimized website entirely designed to help you rank in the search results in my Local SEO Shuriken course.
Once you've filled in the two textboxes, go ahead and click on the blue "Next" button yet again.
Verifying Your Location
Even if you have a service area listing type, Google will still want to verify your business is legitimate. I've seen a lot of clients and business owners get frustrated by this, but it's understandable why they do this. Google is trying to prevent spammers, scammers, and fake listings on their platform. This is a good thing and we want this.
If you choose a brick and mortar listing type, then the way this works is once you submit your information Google will mail you a postcard with a code on it. You then log back into the Google My Business website and enter the code you received in the mail. The nice thing about this is Google mails this absolutely free, and it doesn't cost you a dime.
If you choose a service area business listing, Google will let you verify with your phone or email. They'll send you a generated pin which you then enter in the next step.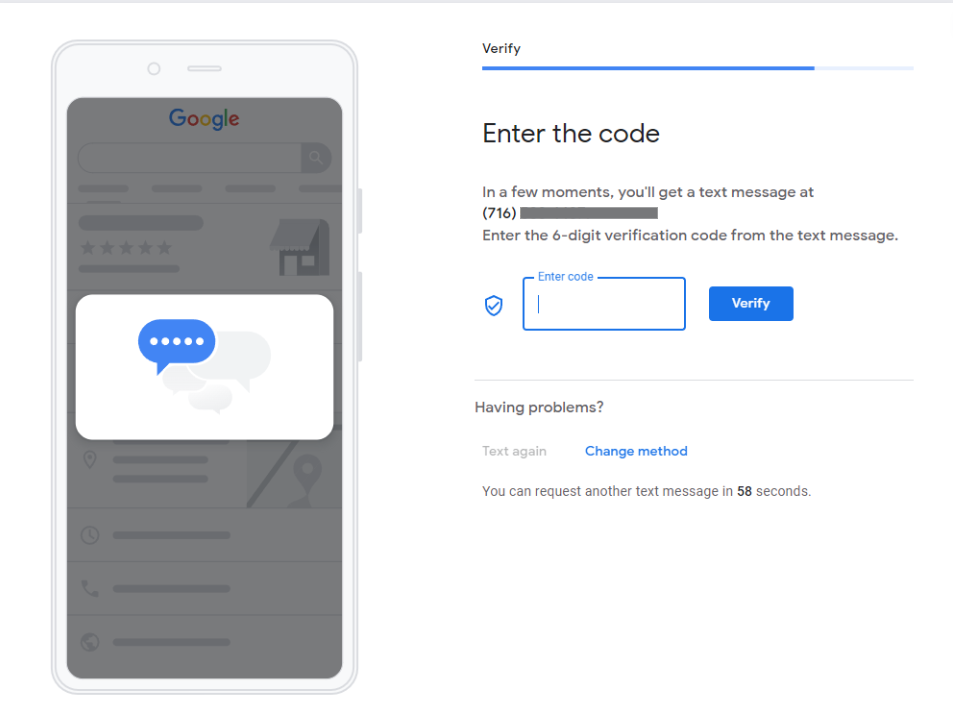 If everything goes well, it will tell you your code was accepted. You're almost done with the listing set up.
Adding Your Services
Now it will prompt you to add a list of services your business offers. Keep in mind you can always add to or modify this list after the initial set up of your listing. You can also enter a custom service if it's not something Google has as a selectable choice.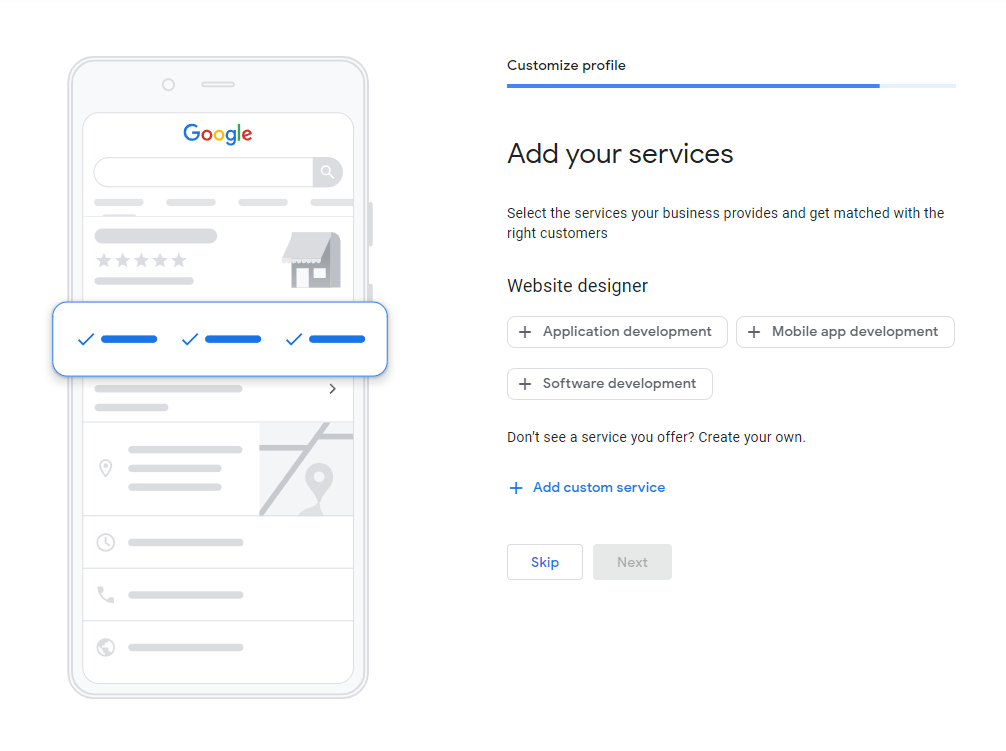 As you can see, for this example I've added some other services this website design agency would offer outside of web design itself.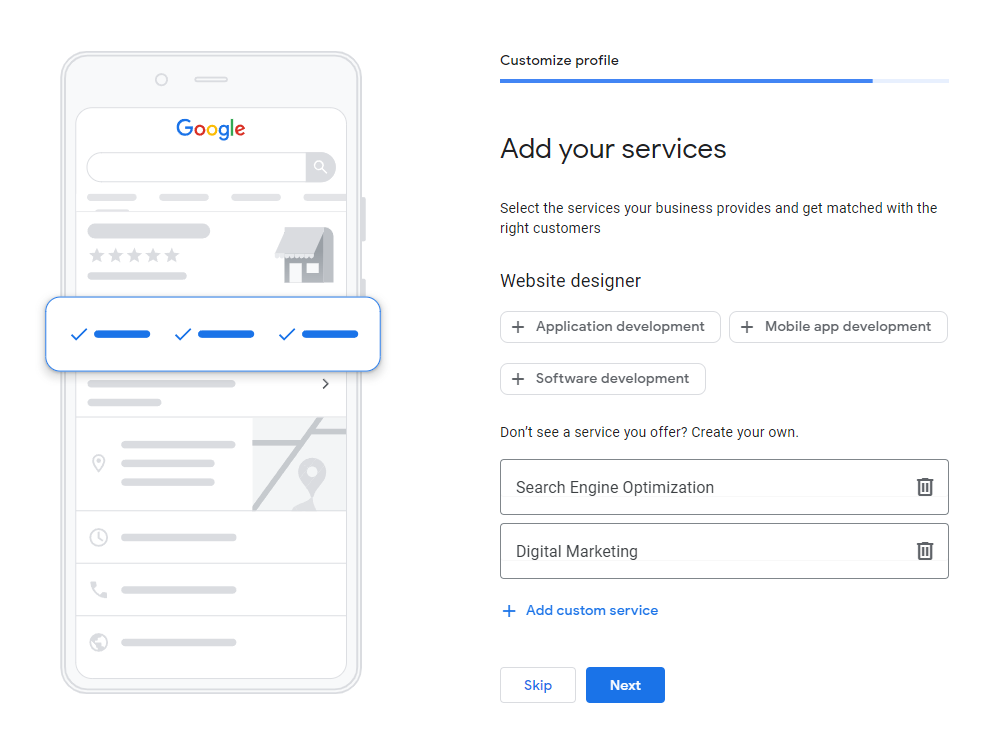 Hours of Operation
It's time to add what times your business is open. Make sure this is correct, as incorrect open times can lead to disgruntled customers. I've seen 1 star reviews left on Google business listings before because a company wasn't open when they said they were.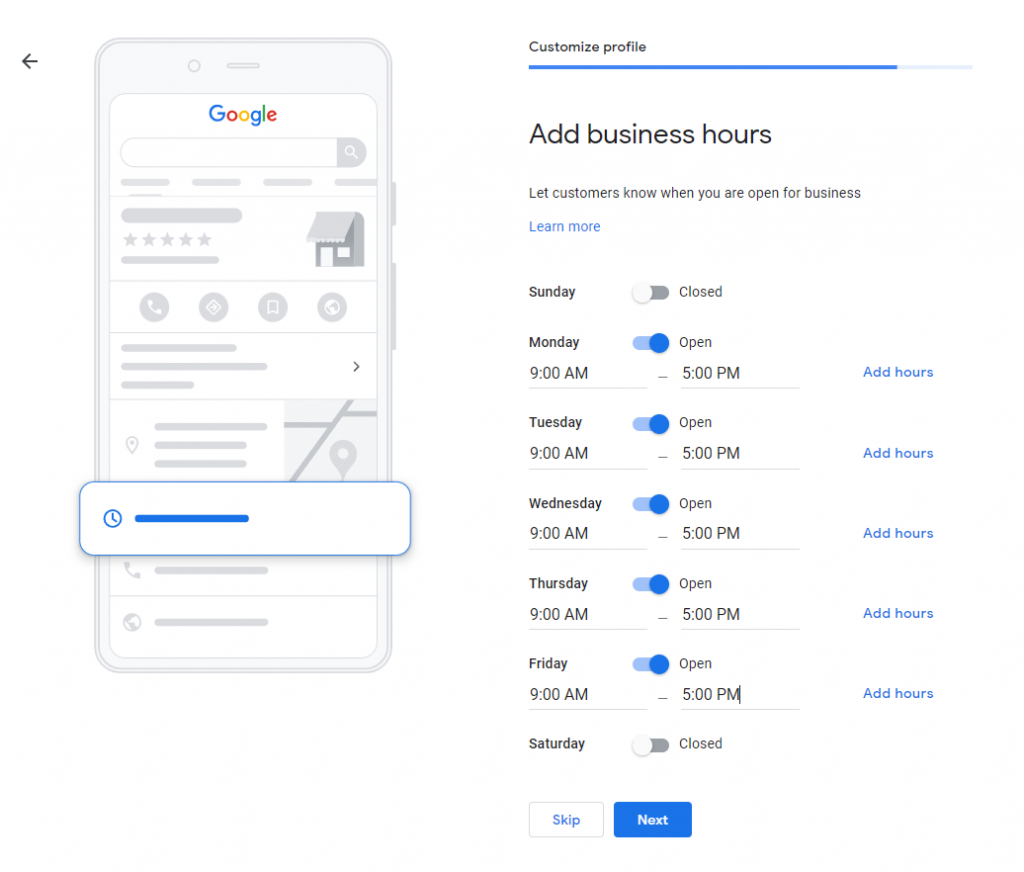 Listing Direct Messages
It will now ask you if you want to enable accepting messages. You always want to leave this on, as it will help your listing performance and give you more customers reaching out over time. Essentially how this works is people on the web see an option to message your business listing itself.
You'll get these messages via email. In my experience I've seen most businesses only get around 1-2 of these a month, as most people still stop in if it's a brick and mortar or call if it's a different type of business. Despite this, there's no harm in turning this option on.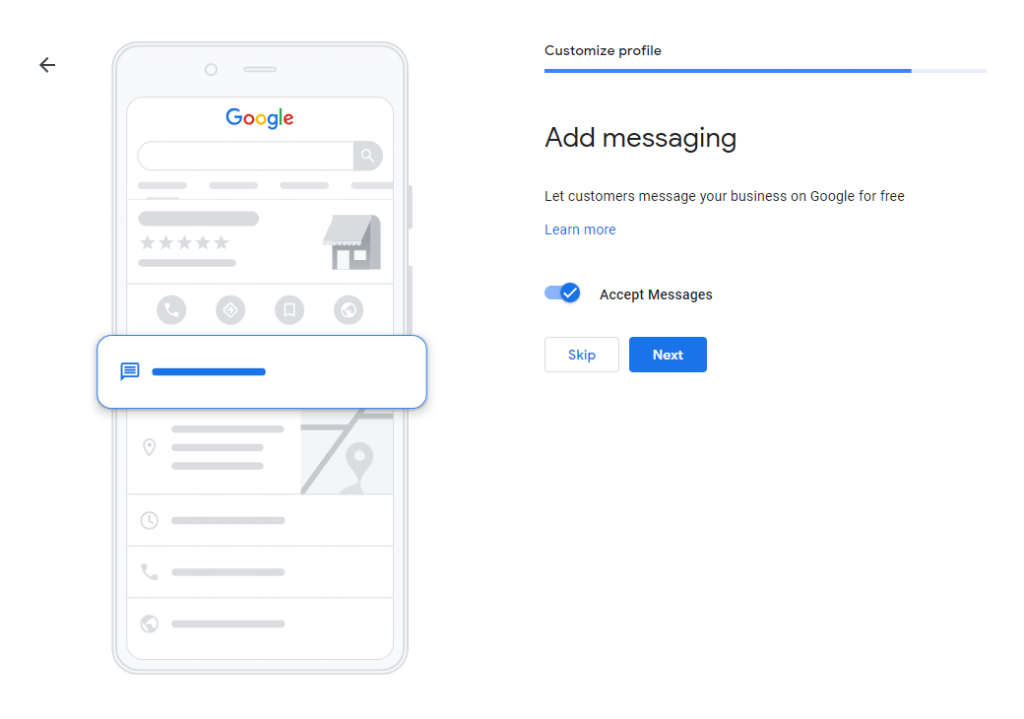 Call History
This is an option you want to make sure you don't turn on. Essentially what this does is it sets up a unique forwarding phone number through Google, that routes calls through it before your actual phone itself. Because of this, it allows Google to track and display a list of all the calls made to your Google My Business listing in a given month.
Now this may sound like a convenient and awesome feature, so why am I telling you to keep this off…?

The reason for this is that as mentioned earlier, NAP is extremely important when it comes to local SEO. When conflicting information about your business exists on the web, it ultimately hurts your ranking and SEO. Because of this, a forwarding number is a double edged sword. Quite frankly, you don't need it and I would avoid this option.
Adding A Business Description
Many consider the description to be the most important part of your Google My Business listing. While I wouldn't go that far, I would place it in the top 3. Your listing description is prime real estate for optimizing relevance.
What I mean by that is you can put in related keywords and synonyms about the products and services you offer. Now despite that, it doesn't mean you should keyword stuff here. That's not what I'm saying at all. You should still give a natural sounding summary of what your business is about. However, you will want to make sure you include some services or key products you offer into the mix.
Just like with everything else we set up so far, this can be modified or added to later on once your listing is published. For now, let's enter a description of at least 300 words.
Here is a list of things you should include:
Your business name
3 key services/products offered
Why you are good at what you do
A golden rule when it comes to listing description is NOT to use corporate speak. People are sick of it, and you can set yourself apart by keeping things real and simple. Be authentic and present your company as if you were talking to a friend.
Here is an example of a description I wrote: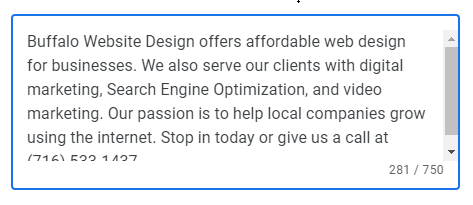 Finishing The Listing Set Up
Next it will prompt you to upload some images. We're going to skip this step and come back to it later. Right now the most important thing is to get the draft of your listing saved.
It may also pop up offering a free advertising credit. If you plan on running Google Ads, you will want to claim this. However, this isn't important for SEO so for this example listing I am going to skip this.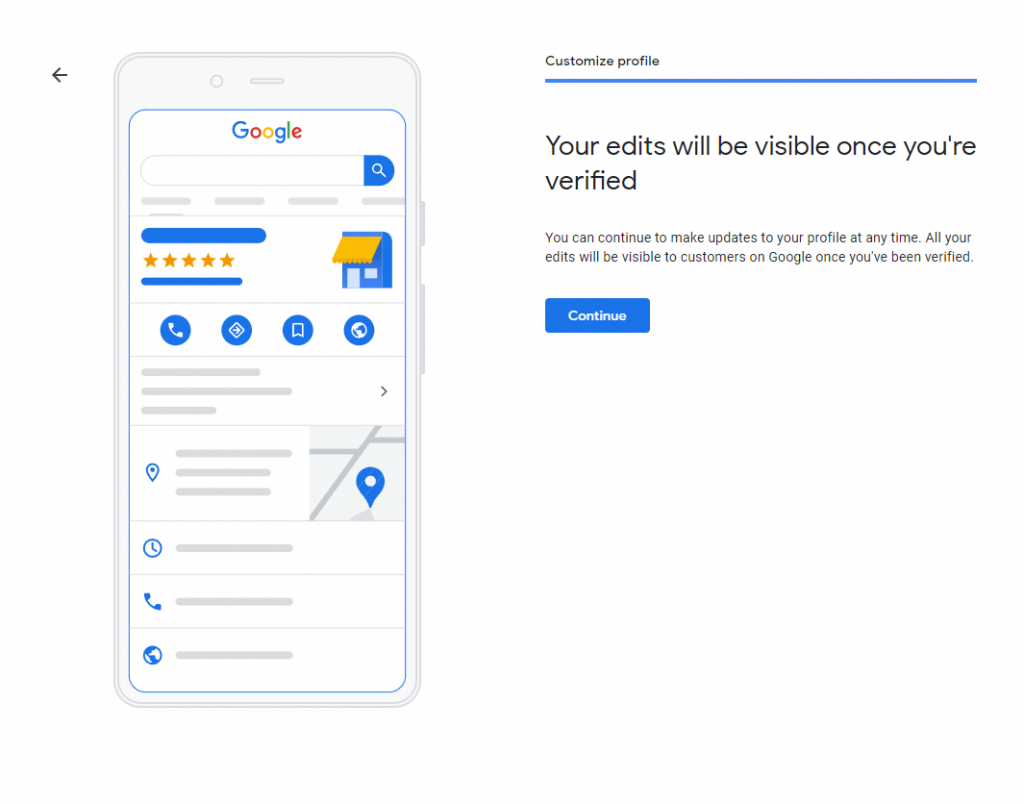 It will now tell you your listing will go live once you verify it. That's it, you are now done creating your Google My Business listing! In my course Local SEO Shuriken, I cover how to optimize this listing using proven strategies and secrets to skyrocket to the top of search.
If you log in to the Google My Business dashboard it should now say "processing" for your listing status. In the meantime you can go ahead and complete your listing, optimize every section in the dashboard, and add some images. This blog post isn't about that, but feel free to check out my courses and other posts for in-depth guides on how to do this.
Conclusion
A service area business is a type of listing you can publish via Google My Business. Service area companies operate in a radius, and don't have an address directly associated with their prospective listing.

Because of this, they tend to not rank as well. It is much better to create a standard listing with an address, as NAP is an important part of local SEO. Many citation/business directory sites will not let you submit your company without adding an address, and conflicting information on your business can hurt your ranking.
Want To Be A SEO Ninja…?
Grab your copy of my new awesome book, the Rank Now Blueprint and become a SEO ninja. It is the ultimate guide to practical, real world SEO step by step. The book contains proven and powerful strategies for generating traffic, leads and sales from search.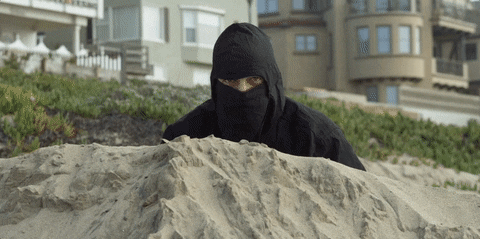 About The Author