I frequently get asked for a checklist on things to optimize for SEO. Because of this, I decided to put together this blog post addressing this. These are the 8 simple steps to optimizing your website for maximum ranking power.
Content Is Still King
It is important to remember that content is still the most important part of your SEO strategy. You can have all the optimization you want in place but without content it's not going to do you any good. I'd take a hundred pieces of high quality content and no SEO optimization over a completely optimized site with no content any day.
Get More For The Work You Put In
The key to effective search engine optimization is a mix of the two. You want to have your website as optimized as possible while publishing high quality content on a consistent schedule. If you're going to spend the time writing 1,000 word to 3,000 word blog posts you might as well make sure you're getting the most for the effort you put in. Therefore, I'm going to be walking you through optimizations you can do before you begin publishing content that will ensure you get more results.
1. Install An SSL Certificate
Nowadays internet users are being trained to look for the padlock in their web browser's top bar. You're probably familiar with SSL certificates even if you've never heard the term before. I'm sure you've heard that if a website address starts with https:// that it is secure.
Google really cares about security and it has quickly become commonplace to have an SSL certificate. Doing this ensures your website stays compliant with what Google is looking for in authority websites. It's also a bonus if you sell products on your website as visitors will be more likely to convert.
You can get a free SSL certificate from ZeroSSL, although more web hosts are including this as a free option in most hosting plans. If you're not super tech savvy, I recommend reaching out to your web host as they can help you with this.
2. Make Sure Your Pages Load Quickly
We're not living in the early days of the internet anymore. Dial up is long gone, and with it is people's patience for web pages to take minutes to load. Ideally, your website should load in 5 seconds or less. Google really cares about page speed and has even created a tool called Google PageSpeed Insights.
You can use this tool to run a test of your website. It will show you how it performs according to Google's standards, along with some suggestions on what you can improve. Although this is Google's tool, I prefer another one to this.
GTMetrix, is my recommended tool to test your website's loading time. It lets you see how your website loads using multiple servers in different cities and states, and gives better recommendations in my opinion.
3. Retain Your Visitors
How many websites have you yourself gone back to after Googling a question? Most likely the answer is zero, and that's because even if visitors bookmark your site they aren't going to come back. If users keep returning to your website, this sends a positive signal to Google that your website is an authority in your niche.
So how do we keep them coming back for more…? This is done through capturing their information and sending them content. Usually this either means implementing one of the following:

A. Email list
B. Push notifications
Email marketing is awesome and although it's beyond the scope of this article, once you have an email list you can continue to promote offers and content to the same people that once visited your site for months or even years down the line. There are tools that allow you to easily get started with both mail marketing and push notifications for free like Aweber's free plan.
4. Improve User Experience
Google wants searchers to have a positive experience with their search engine, so it's important that you keep your website as user friendly and easy to use as possible. Having things like a scroll up button, table of contents, reading time, and post review score are great ways to make it easier for visitors to engage with your content. If your website is running on WordPress, there are free plugins that add all of these functions for you.
5. Include Calls To Action
You need to be making sure your content directly helps you achieve your business goals. This is a common mistake I see a lot of people make when they first get started with SEO. They have all this content and they do begin to get a decent amount of traffic, but they aren't doing anything with the visitors they are getting. You need to make sure you get them to take action. This could be calling your business, filling out a lead form, buying a product, or going to an affiliate link.
You can set up your WordPress theme so it automatically inserts a call to action at the top and bottom of every piece of content. You may have noticed I have this on this very page you are on right now. If you want to learn how to become a SEO ninja and master Search Engine Optimization, secure your copy of the proven SEO blueprint now.
6. Encourage Sharing
Social media signals are a ranking factor, albeit a small one. People sharing your content shows Google that users are engaged with your website. You might as well be making it as easy as possible for visitors to share your content to their friends and colleagues.
As you can see I have social media buttons on this post that scroll with you as you read.
7. Be GDPR Compliant
Even though the GDPR regulations aren't as relevant in the United States, you need to be making sure your website is compliant in European countries. The GDPR regulations are a set of compliance guidelines for businesses about handling personal data. Luckily, these are easy to implement and once done you can rest easy that your website is meeting all of the required standards for European web traffic.
The short version of implementing this means adding a privacy policy and making sure your website is built on a platform that is GDPR compliant. If you use WordPress you can rest easy knowing that the CMS is up to date with GDPR guidelines.
8. Have A Sitemap
A sitemap helps Google index and crawl your website, or find all of your pages in other words. This is important because you want to make sure that Google ends up showing all of your blog posts and content in their search results. Sitemaps are really neat because once configured, they automatically update with a list of all of your posts and pages.
All you have to do is submit a link to your sitemap to Google and the rest is done for you automatically. Yoast SEO is a popular free WordPress plugin that has this feature built-in.
BONUS: Make Sure Your Website Is Mobile Friendly
Nowadays 50% of web traffic is on smartphones and tablets. You need to make sure your website is responsive and automatically resizes to different screen sizes. If users have to keep tapping to scroll in, your website is not going to be ranked as high as the competition.
Most WordPress themes do this automatically but you always want to manually check how your website looks on other screen resolutions. You can do this by right clicking on the page and selecting "Inspect" if you are using Google Chrome. Then select the drop down that says "Responsive" and select a device.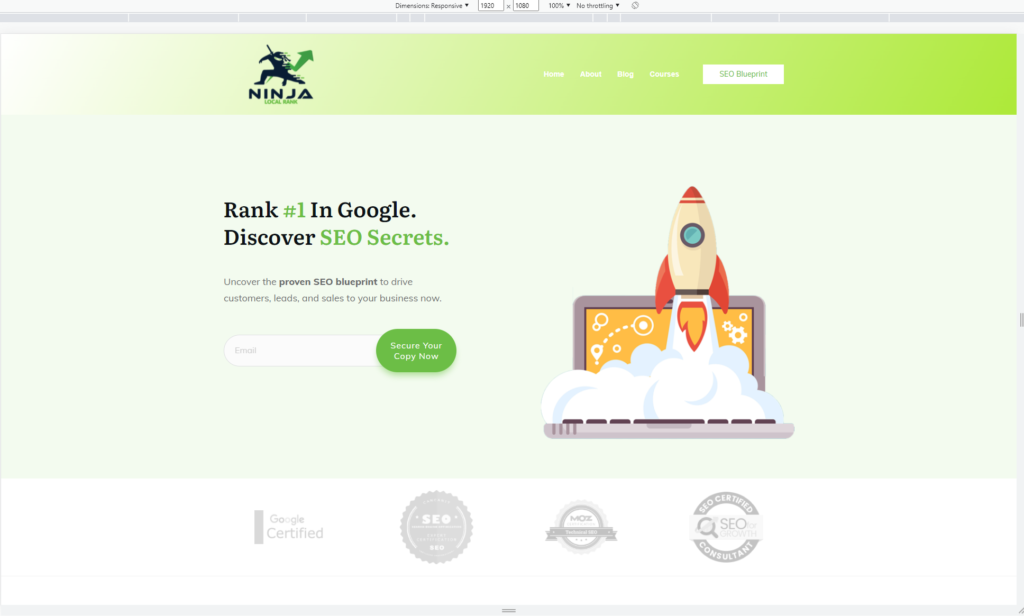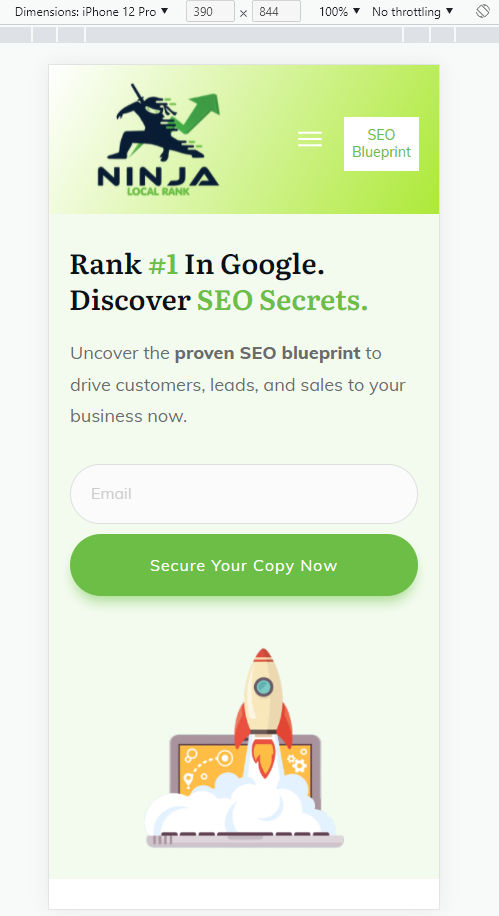 If your website is set up correctly, your page will automatically resize to these different device screen sizes.
Conclusion
Following this checklist can help you ensure your website is going to do decently well in search and achieve your business goals once your content starts ranking. These optimizations are fairly easy to implement and once you have done so they will continue to work for you automatically. Want to become a SEO ninja? Check out the free proven SEO blueprint.
About The Author