Do you want to learn SEO…? Are you in the market for a book, and just want the best ones that people are actually saying positive things about? We've gone through the trouble and compiled a list of the best books on SEO for both business owners and marketers. At the time of writing this article these are the most highly reviewed books on SEO.
This list is sorted by average review score and quantity of reviews on Amazon. We looked at the amount of "verified purchase" reviews, along with popularity and number of estimated orders. Things are ordered in countdown format, with the books at the bottom of the list being the best overall.
NOTE: None of the links on this page are affiliate links. If you'd like to support us for compiling this list, at the end we have a separate entry containing our book. Buying that helps keep the lights on and is greatly appreciated.
10. SEO Boost: How To Be Found On Google
N.K. Park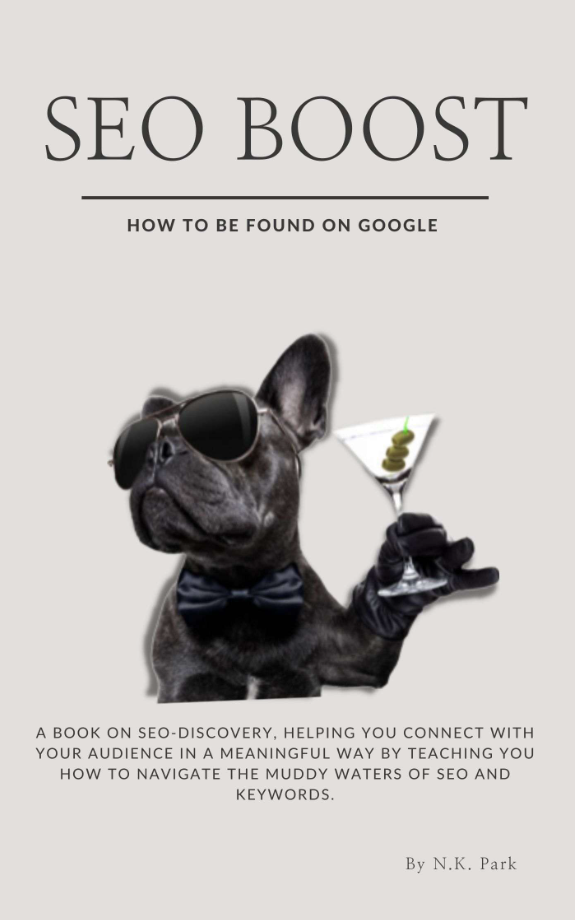 Number of Reviews: 26

Average Rating: 4.8 out of 5

Formats: Kindle, Audiobook

Print Length: 39 pages

Synopsis:
Do you feel like you are shouting into the void, unable to make connections with potential customers?
The internet is always changing, and staying competitive in search results is tougher than ever. When you are just starting out, Search Engine Optimization, or SEO can seem impossible to understand. What is a keyword, and why does this impact your business?
The search engine algorithms are always changing, so how can you expect to be competitive while you are still learning? That's where this book comes in.
SEO Boost will provide simple, actionable tips to beginners and experts needing a refresher alike through simple, actionable tips. Inside this book you will find:
What keywords are, and how you can use them to boost your search results
What SEO is and how you can make it work for you
How to design your content so that it can be read by both users and search engines
How you can track and measure the effectiveness of your keywords and content
Why you need to optimize your site for SEO
Whether you have a product to sell or a service to offer, SEO Boost will help you connect with your audience in a meaningful way by teaching you how to navigate the muddy waters of SEO and keywords.
You'll learn all the tools you need to help new customers discover your site and to keep existing customers coming back. Follow the lessons in this book, and your website will improve its search engine ranking in a noticeable way!
9. The Beginner's Guide To SEO
Jessica Ainsworth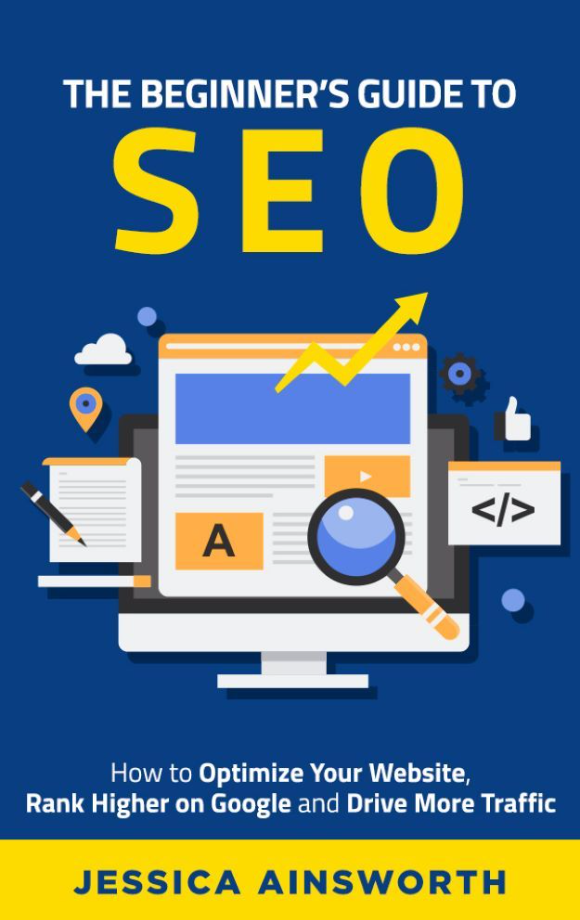 Number of Reviews: 29

Average Rating: 4.8 out of 5

Formats: Kindle, Paperback

Print Length: 280 pages

Synopsis:
Do you want to learn how to be a SEO wizard? Have you heard the saying "The best place to hide a dead body is page two of Google"?
It's true! If your website isn't on page one, you may as well be on the digital struggle bus. Page one however can help your website achieve greater visibility for people who may actually convert to clients.
SEO stands for search engine optimization, which is the process of optimizing your website to rank higher in the search results. For instance, when you query Google for a particular set of keywords, does your website rank on page one? Page two?
Further back? If you like to learn more about this subject, The Beginner's Guide to SEO Is THE book for you! Inside, you'll discover:
What SEO really is
How to implement SEO on your own website
What on-side, off-side, and technical SEO is
The perks of going through chemotherapy (besides getting well!)
If you can manage technical SEO without a developer?
What Google Search Console is and how it works.
How to run a SEO audit
How not to kill your SEO when rebranding.
And more…
This SEO guidebook is arranged in three parts that in turn, follows the same path to keep things clear for readers.
8. BadRedhead Media: How to Best Optimize Blog Posts for SEO
Rachel Thompson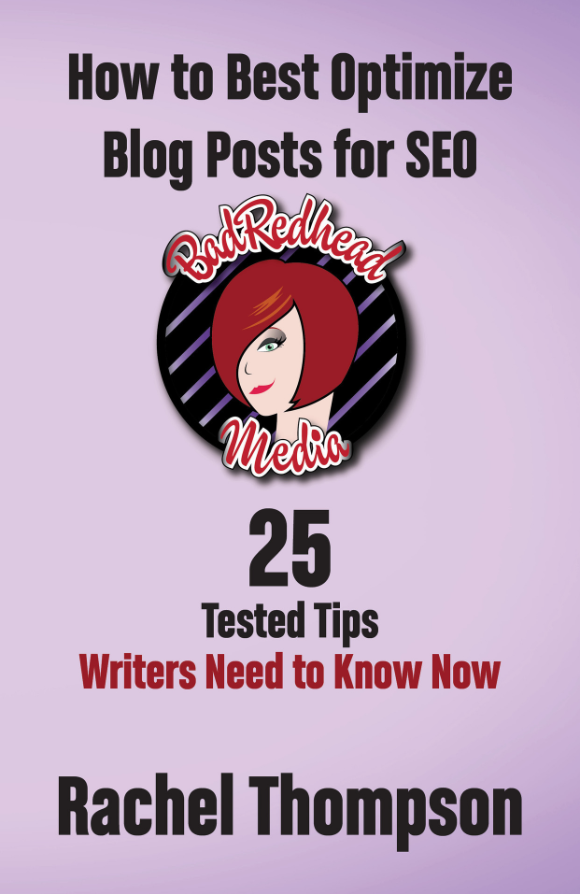 Number of Reviews: 33

Average Rating: 4.8 out of 5

Formats: Kindle

Print Length: 35 pages

Synopsis:
• Are you unsure how to generate more traffic to your blog?
• Do you feel overwhelmed by all the SEO articles out there (or not even sure what the term means)?
• Do you wish someone could break it down for you in simple steps?
Then this is the book for you!
Rachel provides you with her top 25 tips laid out in easy-to-understand language gleaned from her own ten years of successful blogging as well as optimizing and managing countless client blogs. Containing a wealth of information, these tips will help you increase traffic to your site!
Topics include: · SEO terms defined · Specific ways to increase traffic to your blog right now · How to optimize each post for maximum exposure on Google · Ways to connect with readers · How to integrate your blog posts on the various social media sites.
If SEO confuses you, this is a great beginner breakdown for any new blogger, writer, veteran author, and even small business.
Buy your copy NOW and start increasing your visibility!
7. SEO Fundamentals for Small Business Owners
Dean Scaduto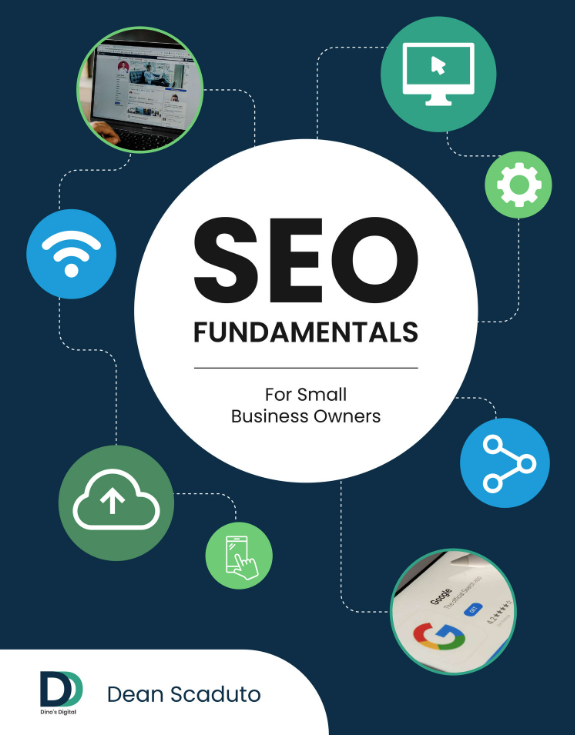 Number of Reviews: 46

Average Rating: 4.8 out of 5

Formats: Kindle, Paperback

Print Length: 93 pages

Synopsis:
"Harvard & Columbia grad walks you through beginner to intermediate SEO steps for your business." -Dom Rosa
"Perfect introductory book to SEO that helps break down a complex subject quite simply. " – Steve Kaplan
If you're reading this, you're probably aware that SEO in 2022 is important for growing your business online.
While having a functioning website is great, it's only half the battle.
Everyone has a website these days; it's getting people to find yours that's the tricky part. With so much competition online, it can be really hard to get your business to appear in the top results in Google. So don't waste your time building the Versailles of websites only to end up on page #57 of Google search results.
Like it or not, SEO is crucial.
So while I can't promise you that this book will be 100% relevant 10 years from now, chances are that most of the fundamentals we talk about will still be applicable to you. Chances are that Google will still exist, businesses will still be online, and people will still be using their devices to search for goods and services online.
If you're taking your small business seriously in the digital age, then you need to learn all about SEO – Search Engine Optimization. It's not a buzzword that's going to go away any time soon. Instead, it's going to adapt to changing technology and algorithms…
…but more on that later.
So strap in, get comfortable, and prepare to be immersed in the fascinating world of SEO Fundamentals For Small Business Owners.
You'll love it.
6. SEO For Small Business
Joseph Stevenson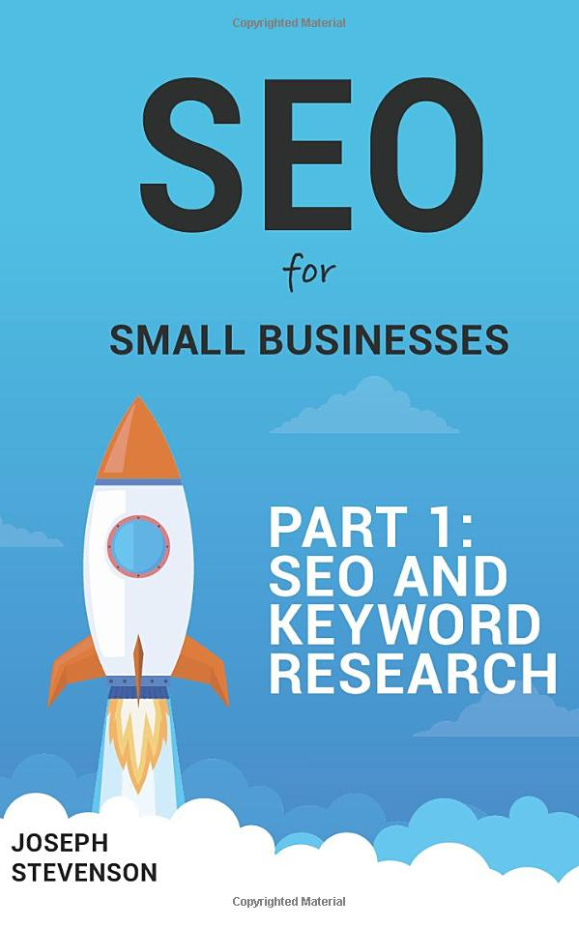 Number of Reviews: 51

Average Rating: 4.7 out of 5

Formats: Paperback

Print Length: 195 pages

Synopsis:
SEO for Small Businesses Part 1: SEO and Keyword Research or the SEO or Search Engine Optimization book contains the most up-to-date examples of keyword research methods used in professional digital marketing and SEO agencies today. Written by an SEO expert, this book contains everything from long and short-tail keywords, exact match, keyword research, how to find keywords that have the most volume and least competition and more.
Over 17 years of digital marketing experience contained in the pages.
5. Google Semantic Search: SEO Techniques That Get Your Company More Traffic
David Amerland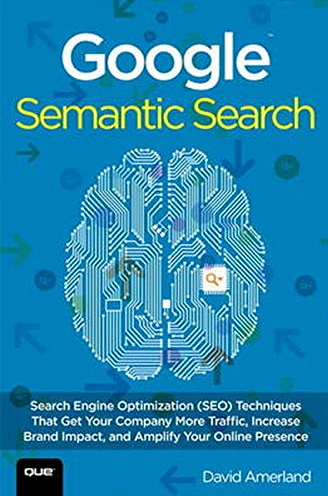 Number of Reviews: 97

Average Rating: 4.6 out of 5

Formats: Paperback

Print Length: 240 pages

Synopsis:
Optimize Your Sites for Today's Radically New Semantic Search
Breakthrough "semantic search" techniques are already transforming Google™'s search results. If you want to be found, yesterday's SEO techniques won't cut it anymore. Google Semantic Search tells you what to do instead—in plain English.
David Amerland demystifies Knowledge Graph™, TrustRank™, AuthorityRank™, personalized and mobile search, social media activity, and much more. Drawing on deep knowledge of Google's internal workings and newest patents, he also reveals the growing impact of social networks on your SEO performance. Whether you do it yourself or supervise an agency, this is your complete playbook for next-generation SEO!
• Learn how Google is delivering answers, not just links—and what it means to you
• Profit from Google Now™ and the fragmented, personalized future of search
• Prepare for Knowledge Graph™ by growing your online reputation, authority, and trust
• Stop using 10 common SEO techniques that no longer work
• Discover the truth about Trust Ranking™—and 10 steps to take right now
• Go way beyond keywords in today's new era of content marketing
• Strengthen the "social signal" you create on Twitter, Facebook, Google+, and LinkedIn
• See why the "First Page of Google" is rapidly become obsolete
• Drive unprecedented business value from your online identity and influence
• Learn how Google captures meaning in unstructured data—and give it what it wants
• Plan for all "4 Vs" of semantic search: Volume, Velocity, Variety, and Veracity
• Rapidly transition from technical to strategic search optimization
4. Outsmarting Google: SEO Secrets To Winning New Business
Evan Bailyn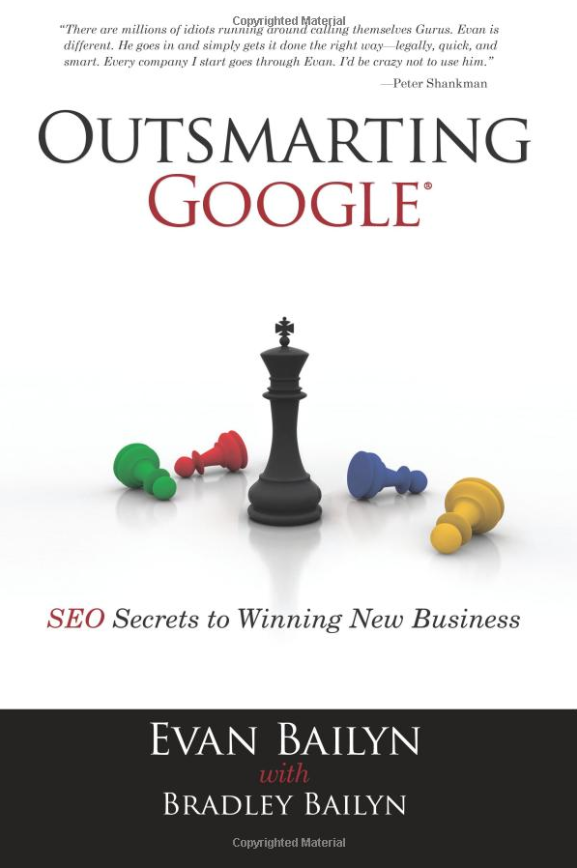 Number of Reviews: 101

Average Rating: 4.6 out of 5

Formats: Kindle, Paperback

Print Length: 240 pages

Synopsis:
If you aren't at or near the top of Google searches, you won't be found. Your company might as well not exist. But many common Google "search optimization" techniques don't work–or even make things worse. In Outsmarting Google, world-renowned search expert Evan Bailyn reveals real, gritty, up-to-the-minute tactics that helped him attract more than 50,000,000 visitors last year without spending a dime on advertising!
You won't find any unethical "black hat" tricks here: only proven techniques that reflect comprehensive testing and extraordinary insight into Google's secret rules. Read this book: Discover the supercharged site optimization techniques Google doesn't want you to know!
New high-profit SEO solutions for every marketer, entrepreneur, and site owner!
Uncover SEO myths and outdated techniques that no longer work
Leverage Google's deep knowledge of how and why people search
Integrate five core SEO ingredients: keywords, links, meta page title, URL structure, and time
Understand what's really involved in choosing the best keywords
Acquire links that help, and avoid links from "bad neighborhoods"
"Age" your sites to build trust and escape the dreaded Google "sandbox"
Use Google AdWords to cost-effectively complement SEO and cover your "long tail"
Convert SEO results into paying customers
Optimize for Facebook, Twitter, and YouTube
Improve performance on Bing and Yahoo! without compromising your Google ranking
Prepare for brand-new trends in personalized and real-time search
3. SEO For Dummies, 7th Edition
Peter Kent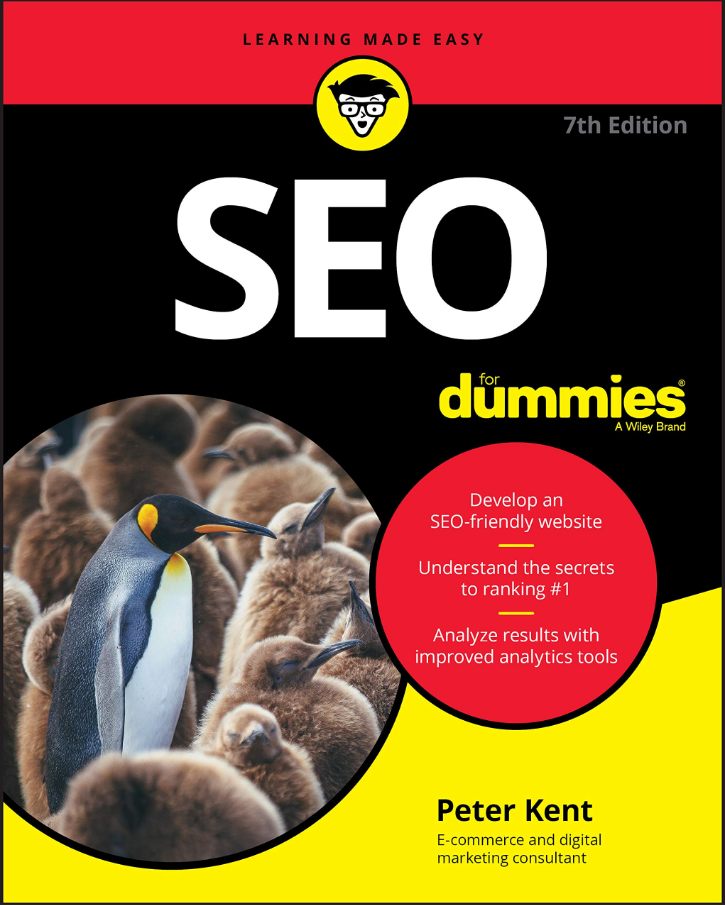 Number of Reviews: 156

Average Rating: 4.6 out of 5

Formats: Kindle, Paperback

Print Length: 512 pages

Synopsis:
Up relevance scores, improve page speed, optimize voice search questions, and more!
Search Engine Optimization For Dummies shows website owners, developers, and search engine optimizers (SEOs) how to create a website that ranks at the top of search engines and has high-volume traffic, while answering the essential question of "how do I get people to visit my site?"
By understanding search engine basics (what are they, which ones are important, how to get started), building a search engine-friendly site, registering your site with directories and indexes, using analysis tools to track results and link popularity to boost rankings, and advertising your site by using pay-per-click options, you can use the tricks of SEO masters to drive traffic to your site. You'll also discover how to write effective content, use social media to boost your profile, and manage your platform and reputation to positively impact your search engine rankings.
Develop a search strategy and use new SERP features
Maximize the effects of personalized search
Analyze results with improved analytics tools
Optimize voice search strategies
There's no time like the present to create a website that ranks at the top of search engines and drives traffic to your site with these tips, tricks, and secrets.
2. SEO Fitness Workbook: The Seven Steps To Search Engine Optimization Success
Jason McDonald Ph.D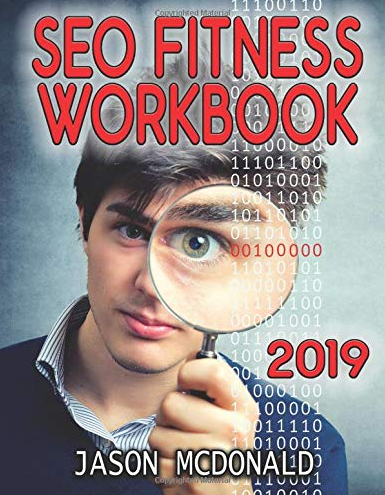 Number of Reviews: 266

Average Rating: 4.8 out of 5

Formats: Kindle, Paperback

Print Length: 350 pages

Synopsis:
Optimize your Website – learn ON PAGE SEO tactics to build an SEO-FRIENDLY WEBSITE.
Learn Link-building – master the art of getting inbound links, blog mentions, and social authority.
Watch Videos – view step-by-step companion VIDEOS that SHOW you how to do SEO.
Use the Worksheets – download WORKSHEETS that guide you step-by-step to search engine optimization success.
Measure via Metrics – navigate the complexities of GOOGLE ANALYTICS.
Access Free Tools – access the companion MARKETING ALMANAC with hundreds of free tools for search engine optimization, a $29.99 value!
One of the Best Books on SEO of 2018 / 2019 or Search Engine Optimization for Beginners and Experts Alike.
Jason McDonald – written by a successful practitioner of SEO. Just Google 'SEO Expert Bay Area' or 'SEO Expert Witness'. He's there at the top!
Stanford University – used by Dr. McDonald in his courses, both online and on campus, at Stanford University's Continuing Studies
An Easy to Follow Method – written in PLAIN ENGLISH for MERE MORTALS. Learn how to do SEO step by step.
1. 3 Months to No. 1: The "No-Nonsense" SEO Playbook For Getting Your Website Found on Google
Will Coombe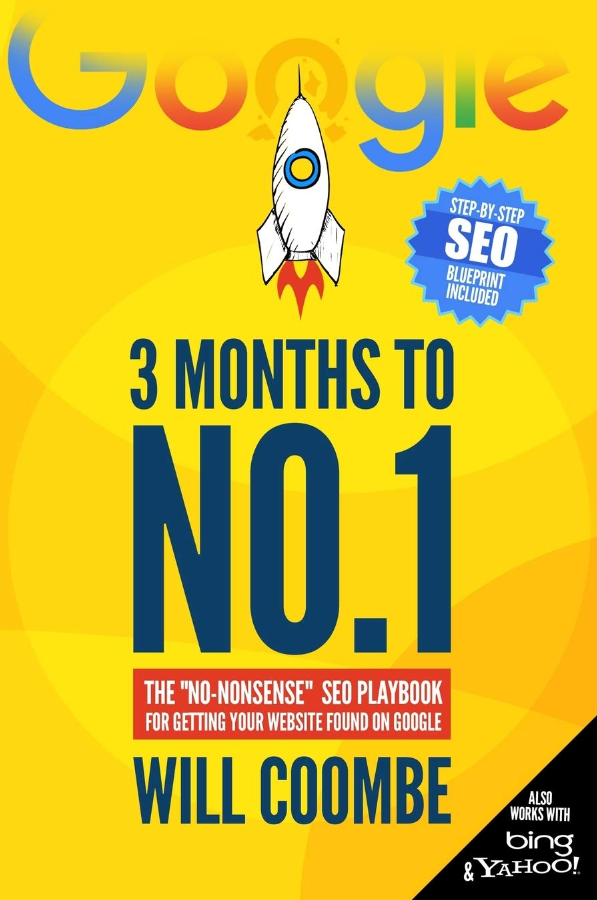 Number of Reviews: 1,316

Average Rating: 4.7 out of 5

Formats: Kindle, Paperback

Print Length: 247 pages

Synopsis:
What Does This Book Deliver?
Over 3 hours of invaluable 'walk through' video tutorials to SHOW you what to do, as well provide you with a step-by-step, week-by-week SEO Blueprint and Checklist.
If you've got a solid work ethic, you're eager to learn, and your business model is sound, '3 Months to No.1' will give you all the tools and know-how required to get your website to the very top of Google where the profit is.
Through a refreshingly no-nonsense plain English approach to SEO, successful London SEO Agency owner Will Coombe unveils how to…
Discover SEO's greatest secret – that it isn't rocket science!
Save thousands by doing SEO yourself, or with your in-house team
Filter profitable traffic to your site
Learn what on earth to do with your social media
Effectively direct and monitor people doing SEO for you
Gain the industry knowledge to call out anyone full of 'BS'
BONUS: Rank Now Blueprint – Generate 10X Traffic, Leads & Sales From Google Now
Gabriel Miller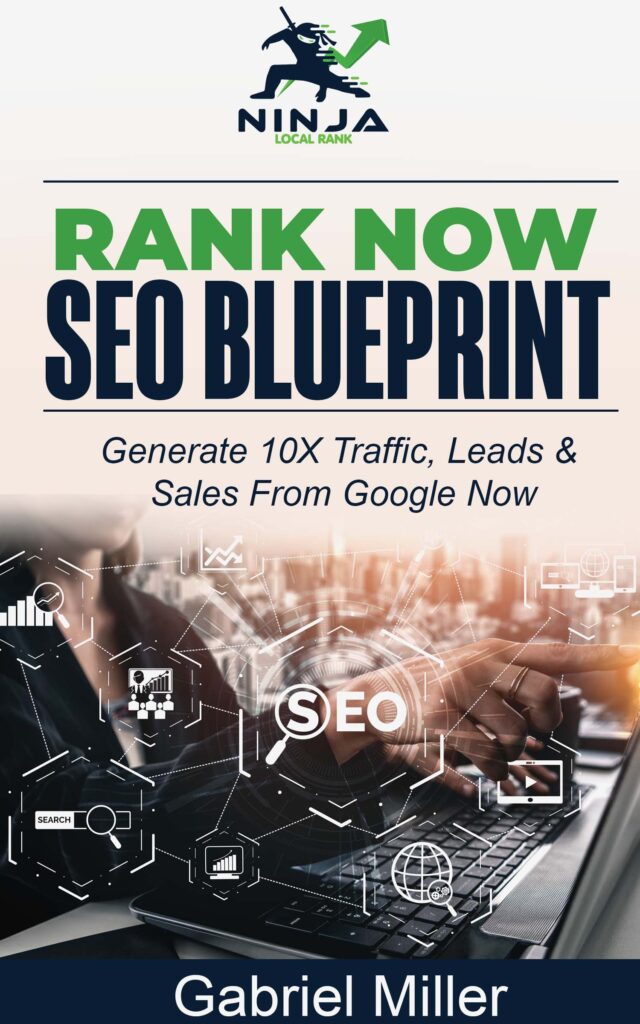 Formats: Digital

BONUS: Audiobook included FREE (if bought on Local Rank Ninja)

Print Length: 180 pages
Synopsis:
The proven A – Z formula to rank any kind of business online. 180 pages of SEO secrets, techniques, and strategy to help you dominate the search results. Powerful formula to generate a TON of traffic, leads and sales.
Buy From Local Rank Ninja: https://www.localrankninja.com/rank-now-blueprint/

About The Author