Many people do not know this, but there are two fundamental types of SEO. Depending on your client, project, or business your approach may need to change. In this article I am going to break down what the two types are and the differences between them.
The Two Fundamental Types of SEO
Local SEO
If you run a small, local business then this one applies to you. Local SEO is more about proximity and location. 90% of your SEO process here should be focused on Google My Business and showing up in the Maps Pack.
If you aren't familiar, the Maps Pack is the top portion of search with a little map next to it. Typically, there are 3 different listings featured here. The goal is to get your business in the #1 spot.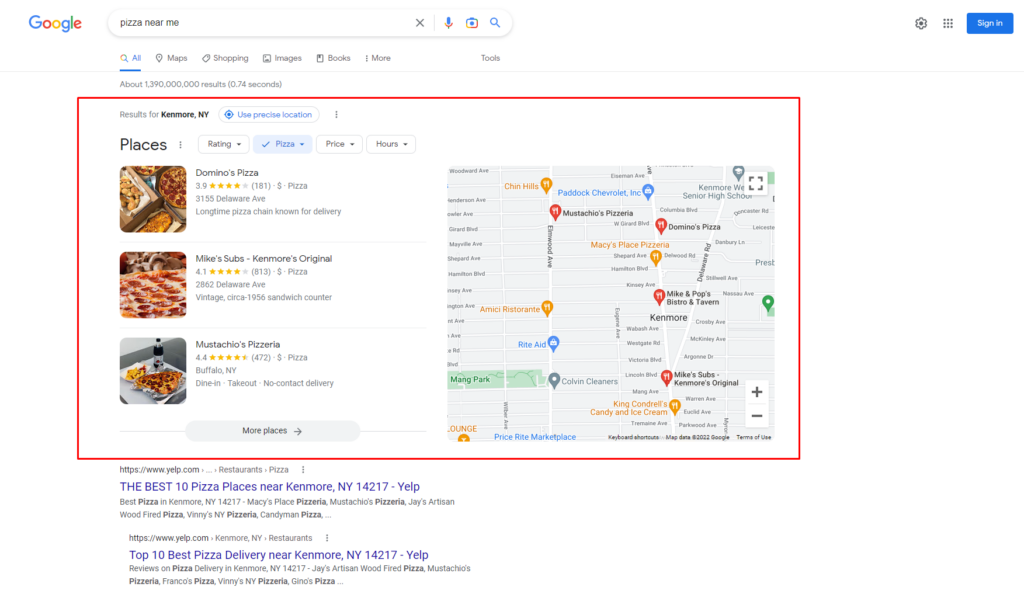 National SEO
This type of SEO basically applies to everyone else. Regardless of whether you are running a blog, an online store, or a digital products business – this is more about generating general traffic to your website. It doesn't matter where these prospects are located, as your business in this example serves any area that has internet access.
With national SEO, your goal is to show up in the organic results. 90% of your time will be spent on optimizing your own website. In most searches that aren't related to proximity, organic results will be the only ones that show up. If your search query shows a Maps Pack, then these results will be below that.
Some examples of national level searches: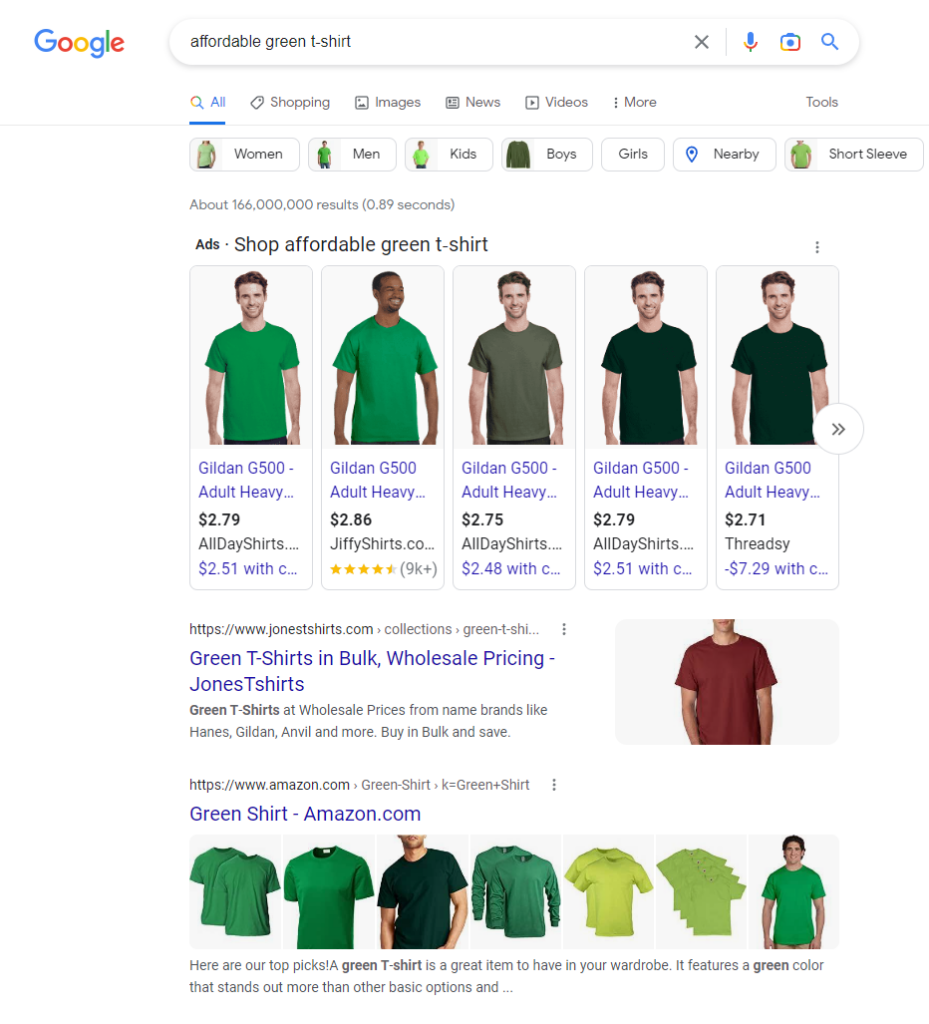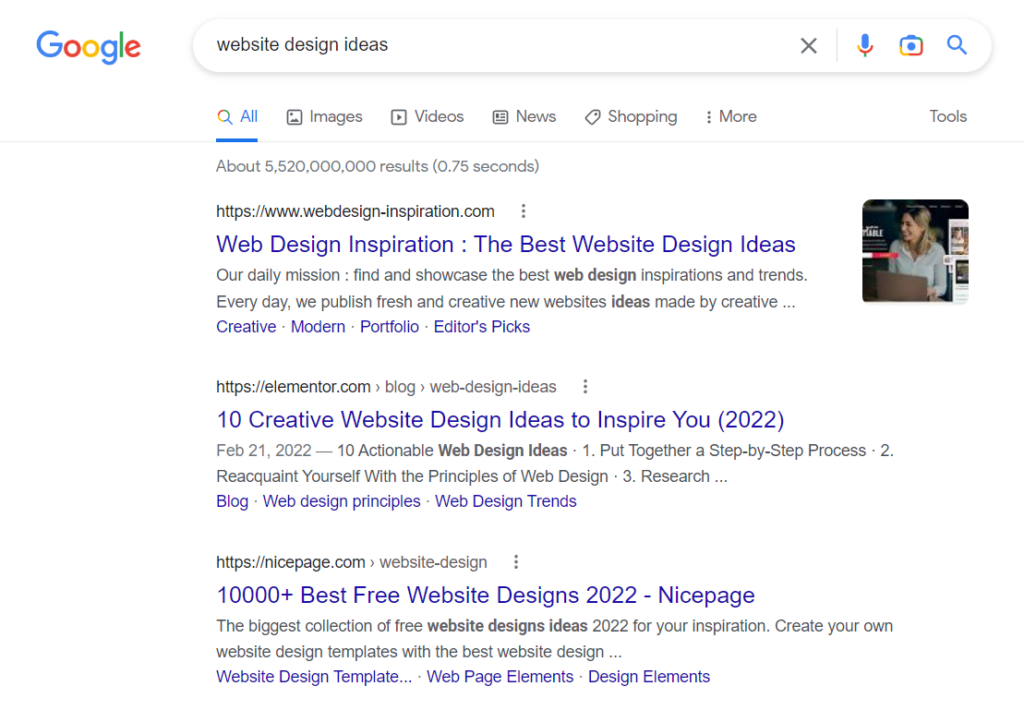 The Differences
Besides just the search results looking slightly different, there are differences in your SEO process depending on what type of SEO you are doing. Your focus will be spent on entirely different platforms depending on which avenue you choose.
Local SEO
As I mentioned earlier, 90% of your time should be spent working in Google My Business. Doing things like uploading photos of your business, fully filling out your listing, and posting frequently to Google My Business are great ways to invest time in this. I've mentioned this before on this blog, but there is a direct correlation between how many photos and posts are published and how businesses rank in Google.
Besides those two things, some of the largest factors for local SEO include profile completion, reviews, citations, user behavior, and social media signals. 
Profile Completion
When I say profile completion, I mean your Google My Business listing. Your business title should contain your primary service or product, for starters. You can do this in a logical way by adding parentheses after your business name.
For example, if my company name is Buffalo Development Inc. and I offer website design I would have my business name be this:
Buffalo Development (Website Design Company)
This is important to optimize as Google will match searcher's queries more if it involves what they perceive as a "brand name" search.
Besides the title, make sure you have added all the relevant categories to your business listing. Take your time with this part of setting up your Google My Business listing. I would list out all the services you offer, and try to find categories for each.
Reviews
Reviews are HUGE. Not just for Google, but for consumers too. Reviews build social proof and the more you have the better your business will do with both search engines and real humans. I've talked about reviews at length before on this blog, but the gist is this: You need to be incentivizing customers to leave a review.
I recommend that you create a "leave a review" sheet and attach it to your receipts or invoices in your business. That way you don't forget to ask customers since you automatically are every time a client leaves your location. In Local SEO Shuriken I share my secret, proven review template that has got my clients 1,000s of reviews.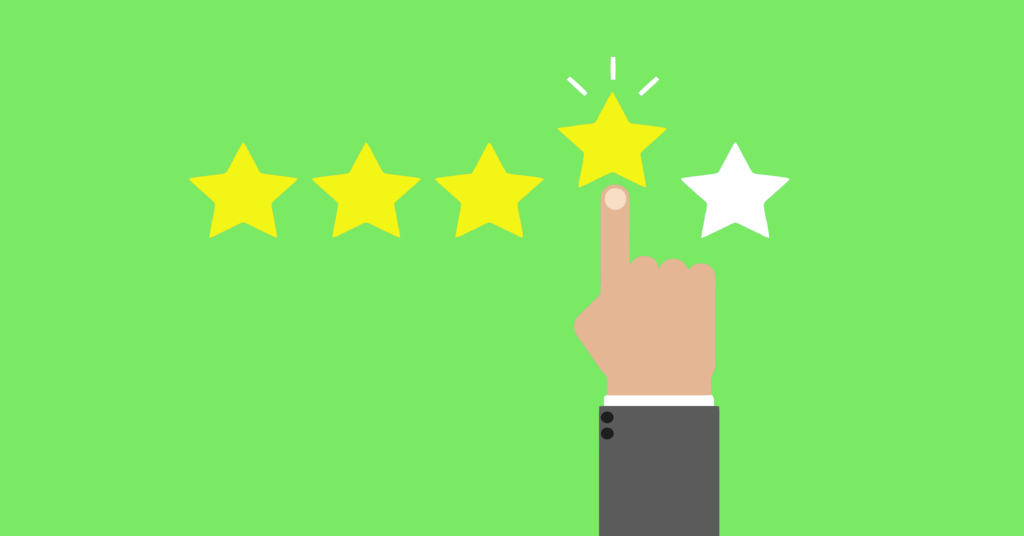 Besides just Google My Business reviews, having reviews on third party websites is also helpful. Make sure your business is listed in Yelp, TrustPilot, and Zagat. It's free to create these listings and even if they don't generate that much traffic, they are 100% worth having.
Citations
Citations are mentions of your business across the web. Submitting your website to business directories is one way to create these. The way Google and other search engines see it, the more mentions your business has the more established and legitimate it is. There are services like Yext and WhiteSpark (which I recommend more) that will create these for you. I personally recommend outsourcing these, as it takes a LONG time to manually enter data on 100s of websites. 
Omnicore has a great list of the necessary citations you will want to pursue for your local SEO.
User Behavior
Google pays attention to how users act when they click from your listing to your website. If users leave your website quickly, that sends a negative signal to Google that your website or business is low-quality in general. You want to make sure your website is functional, secure, and working properly.
You can improve user behavior signals by:
Having a SSL/HTTPS certificate
Having a fast loading website (under 5 seconds)
Avoid sketchy/spammy content on page
Including appealing images, sliders, or calls to action
Creating content that answers searchers' questions
Social Signals
I'm going to be real with you: This one is a very small percentage of the local SEO factors. Despite this, it still is a factor. Make sure your business has solid profiles on all the major social media platforms.
At a bare minimum you need to be on:
Facebook
Twitter
LinkedIn
Instagram
It's free to make these, so you might as well. (Even if you're like me and dislike social media in general.)
You can use a tool like HootSuite to automatically share your content to all your profiles at once. 
National SEO
90% of national SEO comes down to one thing: content. You will want to be doing exactly what I'm doing, and creating blog posts just like this answering searcher's questions. For some reason content is this dreaded word in the SEO space. But it really shouldn't be.
Content
Content should excite you.
The more blog posts you publish, the more traffic you will generate. It is literally that simple. Even if each blog post only brings in 10 visitors a month, 100 posts is still 1,000 visitors a month – for free!
But back to what I just said for a moment.
So why do we answer searcher's questions…?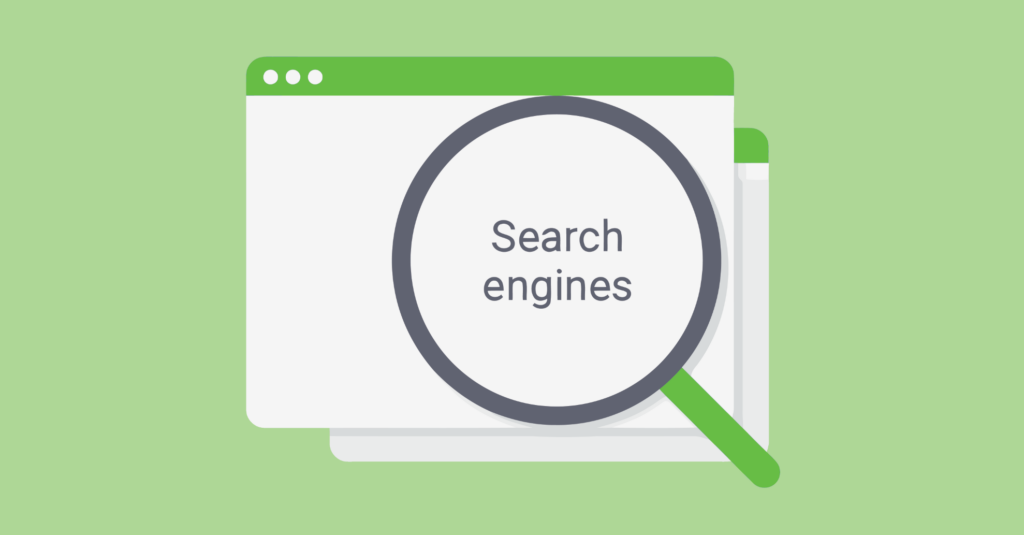 Well, because these are prospects on a buyer's journey in your niche. If people are looking up questions about your products or services, this is where you can snag them. Here's how content makes your business money.
1. A Prospect Goes To Google
It all starts here. The person does a search because they have a question. Typically this is someone doing research.
For example, let's say I want to buy t-shirts. This is a random example, but a real one. I am sensitive to some materials and want to avoid itchy shirts.
So naturally, I head to Google and try to find comfortable shirts. Most likely my search is going to go something like this:

"Comfortable t-shirts"
Or
"Non-itchy shirts"
This could be done with voice search (ex: "Hey Siri" or "Hey Google") or on their computer.
2. A Prospect Lands On The Search Results Page
Now the prospect lands on the SERPS, or search results page. It's here that they quickly scan the websites listed. This is why optimizing your page title, keywords, and description is crucial. I cover how to easily do this step by step in Local SEO Shuriken.
The goal here is to stand out. Try to think of what would make a prospect want to click on your listing. Make it as relevant as possible to their search. Ideally you want them to think "this is the result I need!"
3. A Prospect Clicks On Your Result
This one is self-explanatory. From the point the prospect clicks on your result in search, they move from step 2 to step 4 of the process – just like that.
4. A Prospect Goes To Your Website
Boom! We've nearly won the race. The prospect is now on your website. At this point they read your content, and if you have done everything correctly it answers their question.
Google is happy, and the prospect is happy. But something's missing… We still haven't achieved our business goals!

Remember: SEO is simply a means to an end. We still need to convert this prospect, or turn them into a paying customer. Therefore, one more step needs to happen.
5. A Prospect Clicks Your Call To Action
This is part of the SEO process that isn't taught. It blows my mind that the so called "SEO experts" seem to always fail to cover this. There's no point to SEO if we're just giving out free information…that's a great way to go out of business!
You need to push the prospect into achieving a goal you have. This is done through Calls To Action (or a CTA.) There are many types of CTAs, so you need to add one that is relevant to your business.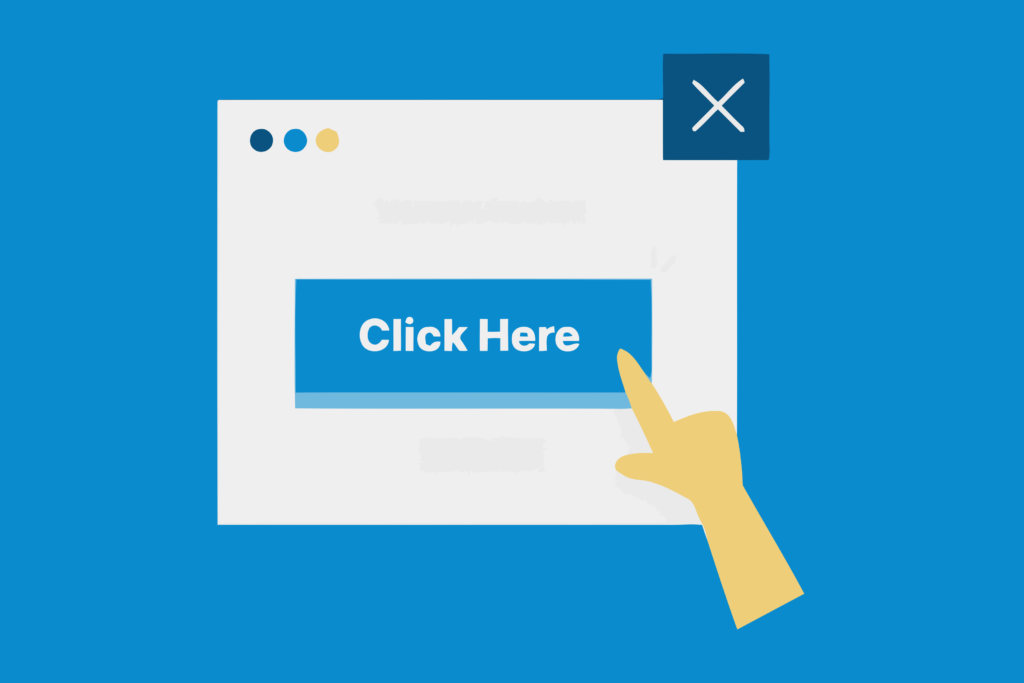 Ask yourself: "What do I want this searcher to do?" If you run an e-commerce store, for example, most likely your goal is to get a purchase of a product you sell.
Here is a list of common CTAs:
Call your business
Opt-in to your email list
Make a purchase
Follow you on social media
Schedule a consultation
The easiest way to implement this is by using a button. You'll notice I actually have several calls to action on this very page. If you scroll up to the top, you'll notice I offer a free SEO crash course in exchange for people's email addresses.
Good Calls To Action are at the top and bottom of your page. They need to be clearly visible so people see them. I also include calls to action in my content.
Since I practice what I preach, here's one right now.
If you want to learn proven, powerful, and effective SEO strategies check out Local SEO Shuriken. It's the ultimate SEO course and walks you through how to rank any website step by step. It really is the "holy grail" of SEO.
Now, besides the fact you should really check out Local SEO Shuriken, you'll notice I did something, and just did it again. "Local SEO Shuriken" is clickable text. This is another way you can add a call to action to your content. This is called anchor text.
You can easily add this inside of the WordPress editor by highlighting your link, and then clicking on the paperclip icon. A pro tip is to always have these links open in new tabs. If it opens in the same tab, Google will see that the person left the page.

The longer a user stays on the page, the better it looks to Google. You can do this by selecting the "open link in new tab" option inside the WordPress dashboard.
They see on-time as an important user behavior signal. The way search engines see it, if a searcher stays on the page a long time the result is good and answered their question.
Why I Explained All Of This
The reason I wanted to illustrate the searcher's journey was to showcase the why when it comes to content. I get a lot of pushback from marketers and business owners when it comes to this. As I said earlier, people hate content.
But again, you shouldn't.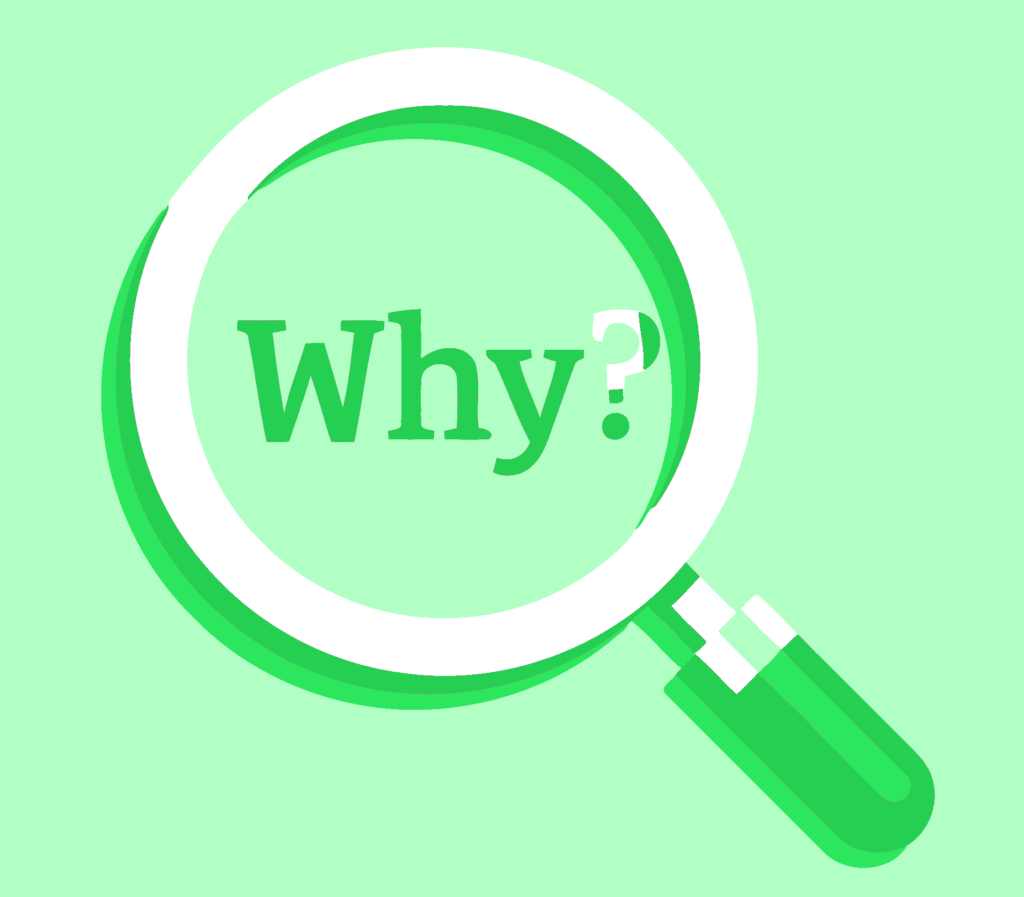 My hope is that you now see how valuable content is, and why you need to create it in your business. It doesn't matter if you run an e-commerce store, operate a local landscaping business, or are a therapist. Regardless of what you do, if you own a website you NEED to have a blog and publish content. I can't stress this enough.
This is what separates the people who rank #1 and you. More traffic is always a good thing, and I don't know about you: but I'd much rather have too many customer calls coming in than none!
There's one more thing I need to mention, before we move on.
Content Needs To Be Published Frequently
Search engines rank websites #1 that they deem as "authoritative". Therefore, you need to be perceived this way. Authority websites publish content consistently.
Publishing one blog post isn't going to be good enough. You need to make writing content a habit and a daily or weekly occurrence in your business. Again, more content equals more traffic, and as such: more leads and sales!
So that begs the question: How often should you post content?
How Often You Should Publish Content
In most niches, 3 pieces of content per week is top level. If you look up the biggest SEO blogs, you'll notice most of them post 3 times a week. However, this changes depending on the niche that you are in. So here's my suggestion.
Look up the biggest websites in your niche or industry. Look at competitor's websites in Incognito mode and see who's currently ranking #1, #2, and #3. Write down and average their posting schedules.
Once you have an average number, publish twice as frequently as that. This is how you win and really take your business to the next level.
Core Optimizations
Besides just content, your website does matter. Google has some guidelines it looks for when it comes to deeming websites top quality. They also have a published list of technical requirements for pages to be considered to show up in the search results.

Now most of these are easy to achieve, just by your website being functional.
Besides these, though, you want to follow the user behavior list earlier on in this post under the Local SEO section. These apply to both national and local SEO. This brings me to my next point.
There Is Some Overlap
Besides Google My Business for local SEO, everything else is basically the same. When it comes to your website, it needs to be fast, secure, and functional. These are the things you will want to have in place for both local and nationwide SEO.
Setting Up Google Analytics
Google Analytics is a free tool that allows you to track how many visitors your website is getting, along with what actions people are taking on your website. This is incredibly important as it allows you to track your results when it comes to your SEO. 
You can easily add this to your website by using the code they give you. Inside WordPress, you can install a free plugin called "Insert Headers & Footers". Then, paste the code into the header box.
I'm not going to go super deep into how to do this for the purpose of this article, but if you want to learn more I cover how to do it step by step in Local SEO Shuriken.
Setting Up Google Search Console
Search Console is different from Google Analytics in that it's more geared towards the technical side of your website. Here, you can track your ranking and performance of your website, along with page experience and core web vitals. If there is an issue or error with your website, it will show up inside Google Search Console.
This is important to set up as we can create a sitemap and submit it to Google. This ensures that the search engine sees all pages, posts, and content on your website. If they can't see it, they won't rank it. So it's vital we get this done.
Creating A Sitemap
A sitemap is a list of all the pages and posts on your website for search engines. This is typically a web page in a XML format. Yoast SEO is a free plugin that will automatically create and update this for you.
You'll want to submit this to Google via Google Search Console. It's free to do and takes less than 5 minutes. I cover how to do this step by step in Local SEO Shuriken. 
To sum it up quickly, you can send a sitemap to Google by clicking on "Sitemaps" under the Index options in the left hand pane inside Google Search Console. Make sure to paste the direct URL of your sitemap into the box, then click on Submit. If done properly, it will say "success" in green next to the link of your sitemap.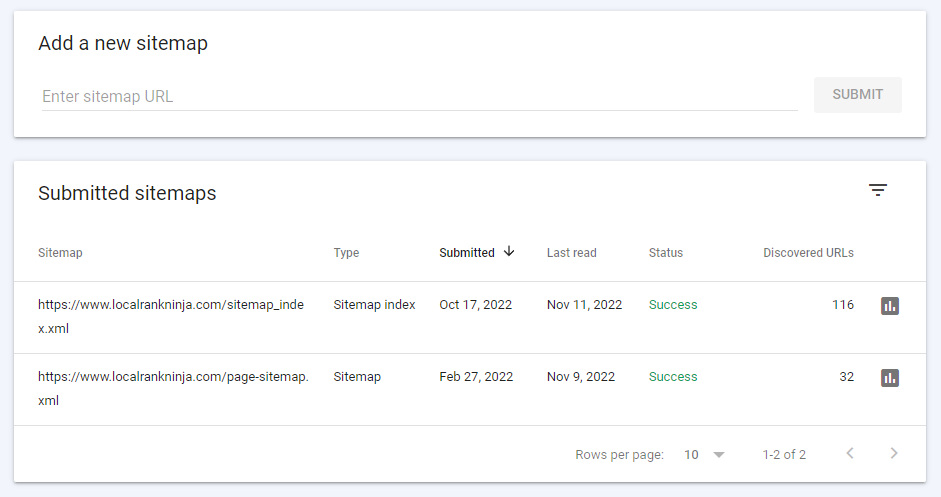 Plan Out Your Website Architecture
This is a next level tip, but the way you structure your page URLs matters when it comes to SEO. We call this website architecture. By changing the text in your URL permalinks, you can easily improve the ranking of your website.
For example, let's say I operate a local logo design shop here in Buffalo, NY. The business name is "Perfection Logos".
Most likely my websites has the following pages:
Home
About
Services
Blog
Contact
If the pages look like this, the permalinks (or URLs) of them probably look like this:
/
/about/
/services/
/blog/
/contact-us/
This is typically what you'll see in terms of pages for most small businesses. Unfortunately, this is far too basic. We can really optimize our website to reach way farther in search.
Here's what we want to do instead. Keep the Home, Blog, and Contact page URLs the same. But when it comes to the About and Services pages we're going to want to make some changes.
Let's start with the About page. We can build a lot of relevance here to give Google a good idea of what our website is about. A better URL for this page would look like:
/about-perfection-logo-design-in-buffalo/
You'll notice I added the city name and service keywords in the URL. At a glance a search engine can understand far more about this page now: that it's about a logo design business in Buffalo.
Next, let's tackle our Services page. Right away we're making a huge mistake: We only have 1 page! It'd be nearly impossible to build relevance for each service we offer.
Instead of having one Service page, you should have an individual page for each service or product you offer in your business. We can then nest these beneath the Services page, turning it into a parent one.
For this example site, my Services permalinks ideally should look a little something like this:
/logo-design-services/

/corporate-logo-design-buffalo/
/small-business-logo-design-buffalo/
/website-design-buffalo/
/flyer-design-buffalo/
/business-card-design-buffalo/
/branding-design-buffalo/
Not only can we optimize each of these pages with keywords, a title, and meta description, but now we can potentially rank for each of these in our city. This is powerful stuff! This is how you really 10X your traffic and ranking.
Be Fluent In Both
As an SEO, there are inevitably going to be times you are working on both small local businesses and online websites by nature. It is your job to be able to rank either type of website. Having this ability is incredibly valuable and the time you spend learning it will pay off in the future, tenfold.
Want To Be A SEO Ninja…?
If you want to learn proven, powerful, and next level SEO strategies check out Local SEO Shuriken. It's the ultimate video course on SEO and teaches you everything you need to know to skyrocket to the top of search. It contains my proven formula that has ranked 100s of businesses #1 in Google.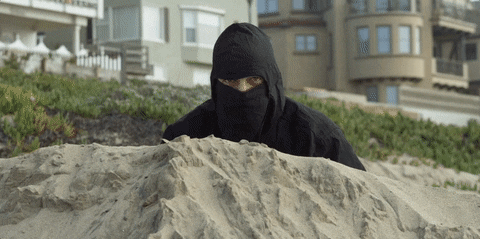 About The Author